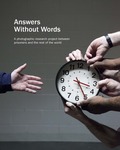 Title
Description
Answers Without Words was a photographic exchange between imprisoned artists from Columbia River Correctional Institution in North Portland, Oregon, and photographers from many places around the world.
CRCI/Free Mind Collective/ A project by, for and with: Quandrell Dumas, Elsa Leydier, Donald Ray Tunis, Maria Jauregui Ponte, Tom Price, Torsten Schumann, Monika Sala, J Barclay, Mischa Christen, Isabel Kiesewetter, Richard Lundquist, Anna Drvnik, Musonda Mwango, Maren Winkler, Joshua Wright, Øyvind Hjelmen, Ben Hall, Sara Lamens, Ivan Jaramillo, Birgit Krause, Donsha Jackson, Tay Kay Chin, Justin Fin Cannon, Kathleen McIntyre, Daniel Bluestein, Dafna Talmon, Joey Lucero, Alice Myers, Michael Brown, Gemma-Rose Turnbull, Dave Alberts, Carolina Magnin, Ben Turanski, Benjamin Stiller, Mario Perez, Sean Figueras, Jake Diepenbrock, Phillip Odom, Larry Loftin, Nathan Eiland, Judas Vanelli Callentano, Timothy Patrick, Adrian Chacõn, Chad Daggy, Stephan Hartley, Guy Snook, Charles Boehm, Adam Olson, Roshani Thakore, Anke Schüttler, Jordan Rosenblum, Pete Brook, Lovely Aguilar, Jose Avina, Courtney Bennett, Vhonn Encarnacion, Stephanie Gonzales, Charles Goodman III, Hoa Huynh, Samantha Justice, Ryan Kwock, Madeleine LaRocque, Meara Little, Joseph MacLennan, Amber Morris, Bradley Noxon, Allison Pordan, Angelea Ranzenbach, Chad Ring, Joshua Rios, Liliana Ruiz, Joseph Sandoval, Sendy Souvannarangsy, Ashleigh Walters, Lukas Weiss, Jessica Wilson
Link to Artist Website
Key Words
Art in prison, Socially engaged photography, CRCI, Columbia River Creative Initiatives
Publication Location
Portland OR
Original Format
printed book
Rights
The Art and Social Practice Archive materials are made available to the public under Creative Commons for personal, educational and non-commercial use within the parameters of "fair use" as defined under U.S. copyright law. No material will be reproduced, broadcast or distributed for commercial purposes.
Recommended Citation
Schüttler, Anke, "Answers Without Words" (2019). Answers Without Words. 1.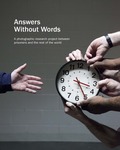 COinS