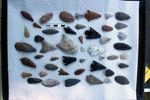 Abstract
Over the course of daily life, people engage with archaeology in various ways, including experiences with archaeology on their own land and as part of family collections of archaeological material. As a result, members of the public often hold considerable knowledge that professionals have historically overlooked. Recent scholarship focuses on the issue of incorporating the public and collectors into archaeological research and ways for capturing that information. Professional-public collaboration is particularly important in northwest Oregon, where many archaeological sites are located on private land and there is a long history of collecting.
My project established a formal process for collecting and investigating information about archaeological sites on private land and private collections, through a case study from northwest Oregon. Come to my presentation to learn more about ways we can build connections between professionals and collectors to better steward these important traces of our past.
Biographical Information
Katie Tipton is an archaeologist for the Bonneville Power Administration in Portland, Oregon. Katie primarily contributes to Section 106 compliance for Transmission and Fish and Wildlife projects throughout the Pacific Northwest. Prior to BPA, Katie worked as an archaeologist throughout the Pacific Northwest, the Great Basin, the Great Plains, Great Lakes, and in the Southeast. Point anywhere on a map and Katie has probably dug a hole there! Originally from Snohomish, Washington, Katie received her B.A. in Anthropology from Washington State University in 2011; and M.S. in Anthropology from Portland State University in 2020. Her thesis focused on developing and evaluating a systematic process for gathering and investigating information about archaeological sites on private land and collections in private hands in the Portland, Oregon area.
Subjects
Community archaeology -- Oregon -- Case studies, Archaeologists -- Attitudes, Archaeology -- Public opinion
Disciplines
Anthropology | Archaeological Anthropology
Persistent Identifier
https://archives.pdx.edu/ds/psu/35779
Rights
© Copyright the author(s)

IN COPYRIGHT:
http://rightsstatements.org/vocab/InC/1.0/
This Item is protected by copyright and/or related rights. You are free to use this Item in any way that is permitted by the copyright and related rights legislation that applies to your use. For other uses you need to obtain permission from the rights-holder(s).
DISCLAIMER:
The purpose of this statement is to help the public understand how this Item may be used. When there is a (non-standard) License or contract that governs re-use of the associated Item, this statement only summarizes the effects of some of its terms. It is not a License, and should not be used to license your Work. To license your own Work, use a License offered at https://creativecommons.org/
Recommended Citation
Tipton, Katherine Louise, "Finding Common Ground Between Archaeologists and Collectors: A Case Study from Northwest Oregon" (2021). Archaeology Roadshow. 4.
https://archives.pdx.edu/ds/psu/35779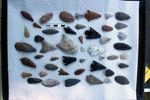 COinS