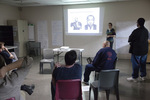 Creator Bio
Projects in this collection: Answers Without Words
Anke Schüttler is a social practice artist with a background in photography. Her projects are often inspired by the interaction with one person. Bringing a transformed version of that experience to a larger group of people, her work strives to foster social interactions between people who might not have connected otherwise. She likes to ask questions, challenge existing situations and put art into unusual places. Collaboration and collective thinking are inherent to her process which is all about learning from and giving back to the people she works with.
Record Created
Winter 2-11-2021
Keywords
photography, socially engaged photography, art in prison
Recommended Citation
Schüttler, Anke, "Anke Schüttler" (2021). Archive Organized by Artist. 2.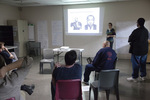 COinS