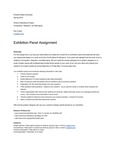 Publication Date
Spring 2016
Description
"For this assignment, you and your teammates will create the content for an exhibition panel that explores the topic you researched based on a work of art from the Portland Art Museum. Your panel will highlight how the work of art is related to Immigration, Migration, and Belonging. We will install the panels (designed by a graphic designer) in a public location along with professionally printed photo panels of your work of art, and your team will present your research to a public audience during Assembly on Friday May 13 during class time."
Link to Artist Website
Keywords
art education; assignment; artists in education
Publication Location
Portland OR
Rights
The Art and Social Practice Archive materials are made available to the public under Creative Commons for personal, educational and non-commercial use within the parameters of "fair use" as defined under U.S. copyright law. No material will be reproduced, broadcast or distributed for commercial purposes.
Recommended Citation
Crews, Roz, "Exhibition Panel Assignment" (2016). University Housing & Residential Learning Artist in Residence. 2.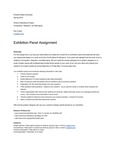 COinS