The Annotated Obama Poster
Ben McCorkle
For this piece, I wanted to share some observations about Shepard Fairey's iconic poster given the timeliness of the text, not only in the wake of the 2008 presidential campaign, but also because of the still-pending Fair Use lawsuit against the Associated Press, the recent installation of the poster in the Smithsonian, and the debut of Fairey's "Supply and Demand" exhibition currently on display at Boston's Institute of Contemporary Art. Additionally, I wanted to comment on the piece in a way that was not only visually interesting—thus the annotated break-out commentary—but also in a way that packaged rhetorical analysis in a more accessible manner for a general readership.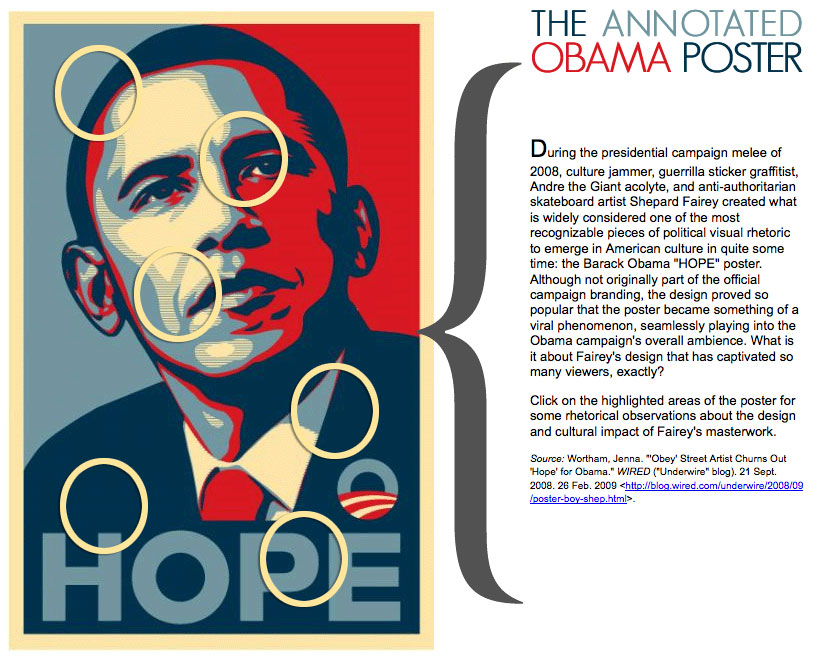 (Click on image or title to enter)
Fair Use Statement
Use of Shepard Fairey's poster falls under fair use, because the enclosed project is a critique of the work.
Ben McCorkle is an Assistant Professor of English (Rhetoric and Composition) at The Ohio State University at Marion.