I wish I could remember when I first realized I was a fan of professional wrestling. This desire is not because I feel nostalgia for the ketchup- and mustard-colored memories of Hulkamania, but if I could remember at exactly what point I became a wrestling fan, I could calculate how many years it was until Geneviéve Goulet—more popularly known as LuFisto, the Super Hardcore Anime—redefined the way I enjoy professional wrestling.
When I watched wrestling before, I followed the feuds between my favorite faces (short for babyfaces, the "good guys") and heels (the black hats, to borrow a term from spaghetti Westerns) with little regard for anything beyond the gratification I got from a well-executed match and an engaging storyline. Women in wrestling at that time were generally managers or ring valets—eye candy to divert attention from the deficiencies possessed by their Y-chromosome-possessing "clients."
LuFisto was my salvation from this fair-weather fandom of female fighting.
In the 1990s, that changed as genuine female wrestlers like Chyna, Lita, and Trish Stratus emerged, demonstrating athleticism every bit as impressive as their male counterparts. Still, women's matches were often perceived by the fans at home as opportunities to go to the kitchen or to use the restroom. As the quality of female competition dwindled again within the last decade, I found myself joining that camp. LuFisto was my salvation from this fair-weather fandom of female fighting (say
that
ten times fast with a mouth full of marbles).
I would never refer to LuFisto's wrestling prowess with qualifiers like "…for a woman." When I first saw her perform, she was wearing a Xena-inspired costume—an unconventional look for a female wrestler—but she performed the graceful, high-flying moves one sees out of Mexican or Japanese wrestlers. And she'd wrestle anyone! Goulet has competed against male and female wrestlers alike in wrestling promotions throughout North America, Japan and Mexico.
LuFisto immediately became one of my all-time favorites. As I did research to discover more about her, I learned she has often been confronted by obstacles to her success solely because she is a woman. I realized women in professional wrestling have more on the line than advancing up the card in order to collect a larger paycheck. Observing Goulet's career, one sees that professional wrestling has been as influential on her as she has been in the industry. Throughout her career in professional wrestling—now over a decade long—Geneviéve Goulet has used all of the elements of her in-ring persona to resist the idea that only males can be successful in her industry.
Women in Wrestling
Women in professional wrestling receive accolades for their prowess, but companies like World Wrestling Entertainment (WWE) and Total Nonstop Action (TNA) promote heteronormative gender roles that often reinforce notions of women as subject to the whims of stronger males and encourage the objectification of the female form.
After years of accompanying male wrestlers to the ring as accessories or participating in fluff matches, women were finally given opportunities to demonstrate their own in-ring skills. At the forefront of this movement was Joanie Laurer, more popularly known as Chyna. In the early '90s, as Chyna first appeared in the then-WWF (the company changed its name to World Wrestling Entertainment to avoid confusion with the World Wildlife Fund), female athletes with muscular physiques like Venus and Serena Williams were gaining media attention, and there was significant growth in the number of women in outdoor sports like snowboarding, triathlons, and marathons (Knight 79). After she overcame some reluctance on the part of WWF owner Vince McMahon, Chyna's appeal steadily grew; Knight "contends that her acceptance was largely predicated on trends in television" (80).
These trends, according to Susan J. Douglas's The Rise of Enlightened Sexism: How Pop Culture Took Us from Girl Power to Girls Gone Wild, were part of the growing cult success of female action heroes in television like Xena: Warrior Princess and Buffy the Vampire Slayer. The appeal of these "warrior women in thongs"—a term certainly appropriate for the provocatively dressed women wrestlers—was their appeal to "the genuine desire to invert the woman-as-prey conventions in the media and provide images and role models of strength" (98). Nevertheless, Douglas notes, the warrior women still "reaffirmed the sexual objectification of women and girls, and [they were "allowed" to be] as strong as any man as long as they were poreless, stacked, and a size two" (Douglas 99). This was true for female wrestlers: Chyna's popularity grew exponentially in 2000 after she received breast implants and a surgically-sculpted feminine jawline—and posed in Playboy.
Why is it not considered immoral to ask a female wrestler to radically modify her appearance for better ratings or crowd approval?
Yikes. There has always been controversy and claims of men juicing in order to gain a competitive edge in professional wrestling; the 2008 documentary film, Bigger, Stronger, Faster*, explores this hotbed. However, steroid use has led to the termination of wrestlers in the years since the Chris Benoit tragedy. Why is it not considered equally immoral to ask a female wrestler to radically modify her appearance for better ratings or crowd approval? Does a woman have to consent to literally changing to meet someone else's criteria of femininity to be successful in professional wrestling? LuFisto is evidence that this isn't the case.
The Performance of Identity
LuFisto is Goulet's vehicle for resisting the body politic that promotions like the WWE and TNA inflict upon their female talent. To me, she manifests Judith Butler's theories regarding the performativity of gender. Butler argues that perspectives of gender are "performative"—that what is often understood as an internal essence of gender is enacted through a sustained set of acts and the gendered stylization of the body. Butler writes, "If gender attributes are not expressive but performative, these attributes effectively constitute the identity they are said to express or reveal" (192). According to this view, "what we take to be an 'internal' feature of ourselves is one that we anticipate and produce through certain bodily acts, at an extreme, an hallucinatory effect of naturalized gestures" (xv-xvi).
Identity and performance are closely bound in all wrestling. The persona present in the ring is often the only glimpse into that individual the audiences get. But that glimpse is essential to the appeal of the show. A major draw of wrestling is how a wrestler's true personality is revealed through the ring persona: "What makes a good performance is when a wrestler is working right on the edge, so close to the edge that he has gone over to the real" (Hackett 19). Another fan agrees, analogizing professional wrestlers' performances to the demeanor of homosexuals who have come out of the closet, free to be themselves after years of conformity to heterosexual ideals (20).
Goulet's ring identity, steeped in theatrics, certainly reveals something of the woman within. In her performance of LuFisto, Goulet seems to fulfill Simone de Beauvoir's proposal "that the female body ought to be the situation and instrumentality of women's freedom, not a defining and limiting essence" (16). At least that was my hunch. So I contacted Geneviéve Goulet directly to gain insight into professional wrestling that watching matches from my couch failed to provide.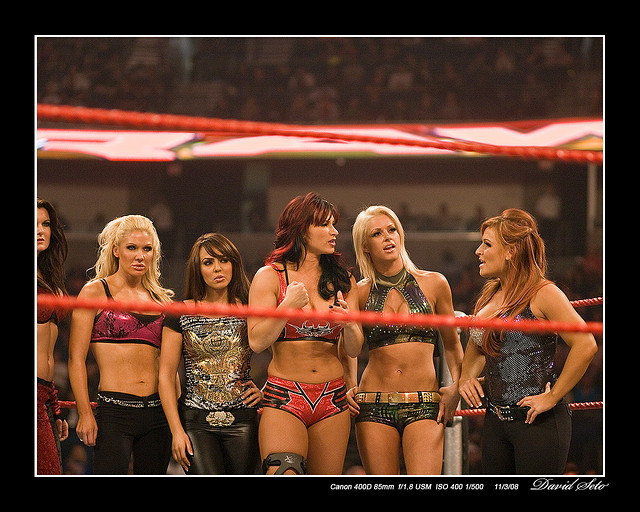 Goulet is aware of the standards of beauty for women the wrestling industry has perpetuated over the years. She sees the larger, televised wrestling promotions as more interested in a woman's appearance than her performance. She says, "They want beautiful women so they can sell a lot of merchandise and make money, which is okay. Every business needs to make money." Goulet's frequent criticisms of the misuse of female talent are meant to challenge the status quo, not the WWE Divas or the TNA Knockouts. She told me, "I actually watch the Divas fighting, but my friends, who are used to seeing people like Sara del Rey and Cheerleader Melissa at Femmes Fatales, just have no interest, which is sad because I know some of the girls are working very hard." Her respect for her peers is strong.
Nonetheless, Goulet is also aware of the consequences that this commodification has had upon the acceptance of female wrestling, explaining that, as a result:
There are a lot of wrestling fans who don't care about the matches. Diva matches are often described as 'time to go to the restrooms' matches. Thankfully, there are options now for people who are more open-minded when it comes to women being the stars of the show. It's also great to see an amazing lady such as Amazing Kong [Kharma] on WWE TV Who knows? There might be hope for women wrestling on mainstream TV.
Certainly, independent promotions in recent years have given female wrestlers like Cheerleader Melissa, Mercedes Martinez, and Sara del Rey opportunities to show that they are as deserving of fans' applause as John Cena, Rey Mysterio, Jr., and CM Punk. It's not just a male industry anymore. LuFisto's performance offers a glimpse of how one wrester helped shape that shift of power.
LuFisto's Sport
LuFisto was largely inspired by Goulet's enjoyment of Japanese strong style wrestling—sometimes called shoot wrestling—which employs some martial arts moves applied with force. Shoot wrestling is the product of the marriage of professional wrestling and sumo wrestling (sometimes called "catch wrestling"), both almost exclusively male sports until the latter half of the 20th century. In the 1980's and 1990's, shoot wrestling attracted a lot of female participants. Goulet's emulation of Japanese wrestlers is homage to and a display of her ambition to succeed in the wrestling industry by using and improving upon the techniques of her male predecessors as well as developing her own move set.
LuFisto's Look
Like her wrestling style, Goulet's in-ring personal draws from Japanese inspiration. (Check out her official entrance video!) LuFisto's attire—which has included Sailor Moon and Wonder Woman costumes—can be seen as pastiche, characterized by "the imitation that mocks the notion of the original" (Butler 188). By invoking iconic female characters as well as wearing outfits inspired by anime, fantasy, and video games, Goulet provides commentary on various fetishes and the hypersexual elements apparent in other female wrestlers' costuming.
Goulet provides commentary on various fetishes and the hypersexual elements apparent in other female wrestlers' costuming.
LuFisto is not a rodeo clown, inviting injury and bruises for the sake of the audience's amusement, but her reflection of their fantasies gives fans occasion to laugh at themselves. This in turn leads them to cheer for her that much louder. One should not understand, though, LuFisto's persona or costume to be parody, directed at the female characters she dresses as or an attack on the other warrior women of wrestling… y'know, except maybe for the ones she is actively feuding against.
LuFisto's Foe
Despite her desire to see a revolution for women in her industry, Goulet knows, others see wrestling as a masculine-gendered sport. Sisjord and Kristiansen contend, "Female athletes are silenced or not taken seriously even though women have participated in both boxing and wrestling for several decades" (354). Goulet, then wrestling as Precious Lucy, discovered this firsthand in 2002.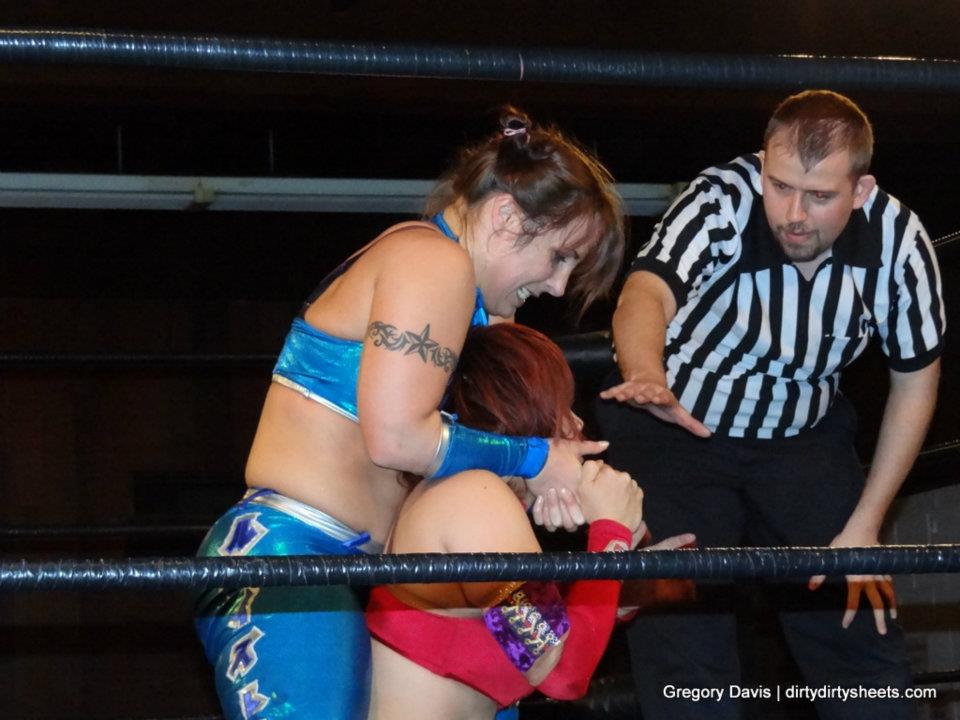 LuFisto in the ring. Used with permission
Goulet was booked to participate in an intergender tag team match in Ontario, when she received an email from the promoter telling her that he could no longer book her. A rival promotion had filed a complaint through the Ontario Athletic Commission (OAC), a branch of the Ministry of Consumer Affairs. The OAC had regulations preventing male and female wrestlers from competing against one another in the same ring. OAC Commissioner, Ken Hayashi, offered little clarity to the rationale behind the rule, saying, "Men will wrestle the men, women will wrestle the women. It's pretty straightforward." But this reasoning was not as straightforward as Hayashi claimed. He insinuated in an interview with SLAM! Wrestling that the regulation existed to protect female wrestlers from injury. Goulet's retort: "I [had] been performing against guys for five and a half years and never [gotten] hurt" (Altamura).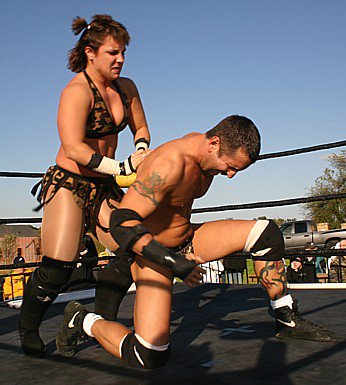 LuFisto in the ring. Image used with permission.
Some feel that the enforcement of the law was inconsistent and slanted against small, independent promotions, while larger companies like the WWE were exempt when staging events in Ontario. Richard Hustwick of the OAC maintains that "[a] man and woman have never been authorized by the OAC to fight each other at an OAC-regulated combative sporting event." Was the OAC upholding these divisions between their performers to promote athletics in Ontario as family-friendly and misogyny-free? Was the aim to create standardized levels of competition, such as when Total Nonstop Action Wrestling relegated all of its female talent into the "Knockout" division?
Regardless of the motives behind the OAC's regulation, the ruling attempted to create a legal definition largely predicated upon the signification of gender, wherein masculinity and femininity are defined in oppositional terms that ultimately marginalize women. Female wrestlers assume the same competitive, aggressive gender roles that their male counterparts demonstrate in their ring personas. Despite this, female competitors are subjected to the Lacanian notion that in order to participate in man's desire, they must give up their own (Butler 64).
The Main Event
But not LuFisto. Rather than remain passive, Goulet took her objections to the Ontario Human Rights Commission.
Her objections were: a) it affected female competitors monetarily, and b) in any business or industry, it is wrong to say that a woman cannot do her job alongside a man because she isn't as skilled, or isn't as tough. Prior to the incident, Goulet had been booked at least twice a month in Ontario venues; the ban on intergender matches adversely affected her earnings. "The regulation itself is discriminatory. I can't perform with the workers of my choice in an entertainment business," Goulet argued. In her own article for SLAM! Wrestling, Goulet explained, "They saw what I saw, that the regulation in question was a violation of my human rights, based on my gender."
"They saw what I saw, that the regulation in question was a violation of my human rights, based on my gender."
The OAC repealed the legislation. This was a unique and significant victory. Several years later in 2006, the OAC, under an amendment to the Athletics Control Act, no longer regulates professional wrestling, regarding it as "choreographed entertainment, and not a form of combative sport requiring provincial oversight." There are now more opportunities for professional wrestling promotions in Ontario to show women as serious athletes and performers rather than as victims and sex objects.
A Subversive Sport
While the moniker "gender warrior" appears nowhere on Goulet's website, LuFisto's career has led me to consider professional wrestling's place in the larger feminist discourse. In "Whose Game Is It Anyway? Power, Play and Sport," Cora Burnett writes that "an essential element of hegemony is its contestation. Accordingly hegemonic gender relations are contested, rejected and resisted in different societies and institutions, resulting in a degree of mobility in gender relations" (71). It is not just literal manifestations of this idea occurring in intergender professional wrestling matches, but also opportunities for women to stand up against the notion that they must "attend to and learn gender role behaviors appropriate to their statuses" (Devor 2604).
To exclude women in this setting, as the OAC attempted, might create a precedent leading the narrow-minded to reconsider whether female competitors should be taken seriously in other sports or careers like stunt work. Perhaps we might start regarding military service or law enforcement as too dangerous for women; those bullet-ridden settings are much more violent than wrestling. It would be a step backward to further marginalize women in professional wrestling, to erode the images of women overcoming odds and achieving success.
By defending a violent contest between a man and a woman, Goulet fought against a subtle form censorship, an attempt to prevent gender norms from being contested in the ring. In her examination of violence in contemporary American culture, Julia Wood rejects censorship of representations of violence in favor of more inclusive, subversive representations: "A better answer may be to demand that media offer us multiple, diverse images of women and men... Instead of banning what we don't like, perhaps we [should] work to enlarge the range of ways in which people and relationships are portrayed" (279). LuFisto does just that, filfilling what Wood calls the responsibility of parents, citizens, and individuals "to criticize media representations that demean men and women and that contribute to attitudes that harm us and our relationships" (279).
One might argue that professional wrestling does more to create negative images of women, that it's not worth the fight. But as journalist Thomas Hackett points out, wrestling fits the criteria the Ms. Foundation for Women offered in defense of school sports when they were termed possibly "one of the most overlooked arenas of violence training" by the 1996 National Education Association. Although professional wrestling may not have been what the foundation had in mind, Hackett argues, it nonetheless promotes "games that celebrate 'playing on teams for the sheer joy of playing,'" fictionalized competitions "used to facilitate role-playing and personal expression," and dramatizations which, while violent, are hardly meaningless (50). In protecting women's rights to their sport, Goulet, whose career is simulating violence, used bureaucracy against itself to affect meangingful, positive change.
The Legacy of LuFisto
I have never had any face-to-face contact with LuFisto; while she has wrestled all over the world in addition to her native Canada, Geneviéve Goulet has yet to make it to Missouri.  Despite this, she has had a profound impact on the ways I absorb popular culture. I realize now no art is made purely to share an aesthetic. No art is created without sacrifice.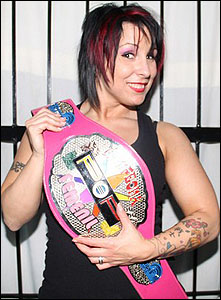 LuFisto victorious. Used with permission
Goulet—like so many before her—has endured a hundred million blows to get where she is today and may have to endure a hundred million more before the world will let her rest. I do not envy her this burden. Sure, Hulk Hogan and Bret Hart can have very public courtroom spats with Vince McMahon and not worry about their next paychecks, but a female wrestler in an independent promotion standing up for herself is taking a considerable risk.
I cheer louder when I see her in the ring now because I see her as carrying on her shoulders the struggle of all women, all artists, all human beings when she steps into the squared circle. Goulet does not compromise who she is or how she wants the world to see her. LuFisto is one woman against millennia of patriarchal ideals encoded in every single member of her audience. While one might feel inclined to root for LuFisto as an underdog in that particular contest, her determination puts the odds in her favor.
References
Altamura, Mike. "Inter-gender Turmoil in Ontario." SLAM! Wrestling. Canoe.ca, 9 June 2003. Web. 31 August 2011.
Burnett, Cora. "Whose Game Is It Anyway? Power, Play and Sport." Agenda 49 (2001): 71-78. Agenda Feminist Media. JSTOR. Web. 15 November 2011.
Butler, Judith. Gender Trouble, 2nd ed. New York: Routledge, 2008.
Devor, Aaron. "Becoming Members of Society: Learning the Social Meanings of Gender." Gender Blending: Confronting the Limits of Duality. Bloomington, IN: Indiana University Press, 1998.
Douglas, Susan J. The Rise of Enlightened Sexism: How Pop Culture Took Us from Girl Power to Girls Gone Wild. New York: St. Martin's Griffin, 2010.
Goulet, Geneviéve. "Female Wrestler Pins Ontario Athletic Commission." SLAM! Wrestling. Canoe.ca, 9 March 2006. Web. 26 May 2011.
--Personal interview. 17 May 2011.
Hackett, Thomas. Slaphappy: Pride, Prejudice, and Professional Wrestling. New York: HarperCollins, 2006.
Knight, Gladys L. Female Action Heroes: A Guide to Women in Comics, Video Games, Film, and Television. Santa Barbara, CA: Greenwood, 2010.
Sisjord, Mari Kristin and Elsa Kristiansen. "Serious Athletes or Media Clowns? Female and Male Wrestlers' Perceptions of Media Constructions." Sociology of Sport Journal 25 (2008): 350-368. Human Kinetics, Inc. JSTOR. Web. 15 November 2011.
Wood, Julia T. Gendered Lives: Communication, Gender, and Culture, 7th ed. Belmont, CA: Thomson Wadsworth, 2007.
Robert Pickering is a candidate for an M.A. in English at Missouri State University, where he currently teaches creative nonfiction as a graduate assistant. He is immersed in popular culture and feminist theory and has previously presented at both the 2011 Pop Culture Association/American Culture Association SW Texas/National Conference, as well as the 2011 Midwest PCA/ACA Conference.