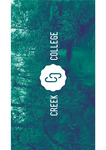 Title
Publication Date
Fall 10-1-2015
Description
Creek College is a project bridging art and environmental conservation. We offer a range of art classes and experiences in exchange for activities that aid in the restoration of watersheds suffering from environmental degradation.
Link to Artist Website
Key Words
sustainability, water, alternative school, barter, watershed, education
Publication Location
Portland OR
Rights
The Art and Social Practice Archive materials are made available to the public under Creative Commons for personal, educational and non-commercial use within the parameters of "fair use" as defined under U.S. copyright law. No material will be reproduced, broadcast or distributed for commercial purposes.
Recommended Citation
Sutherland, Kim; Carlin, Adam; and Dutton, Kristina, "Creek College" (2015). Creek College. 1.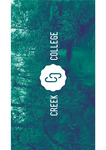 COinS