Title
Link to Artist Website
Preview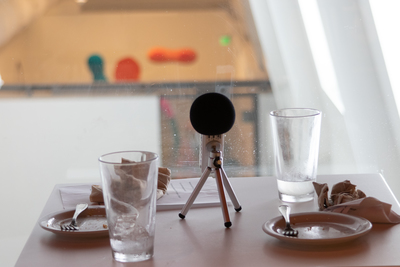 Description
In a time when talking to strangers can feel difficult, Everybody Eats Lunch paired Americans of different backgrounds together for a one-on-one meal and conversation, with meals donated by local restaurants. The project's "algorithm" was intentionally random; Participants were matched only by their favorite lunch food. For example, if you said macaroni, you got matched with someone who also requested Macaroni. Featured on NPR as the "anti-echo chamber experience," the project took place in the Midwest and the San Francisco Bay Area over two years. Exhibition of the project, entitled "Hello Stranger," presented quotes extracted from lunches and a "pop-up" re-creation of the dining experience for gallery visitors.
Key Words
Lunch, Strangers, Analog, Food, Conversation, Anti echo chamber experience, One on one
Rights
The Art and Social Practice Archive materials are made available to the public under Creative Commons for personal, educational and non-commercial use within the parameters of "fair use" as defined under U.S. copyright law. No material will be reproduced, broadcast or distributed for commercial purposes.