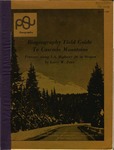 Description
Occasional Papers in Geography Publication No. 1
This guide is an outgrowth of field trips I have made with students in biogeography classes at Portland State University. When I first began these field trips I was surprised that such a guide was not available. It seemed such a natural thing to have, given the spectacular laboratory of the Cascades where is displayed one of the most dramatic sequences of contrasting environments on earth. Within less than 100 miles you pass from a cloudy marine climate to a semi-arid continental climate, from a lush green land with towering trees to desert shrub.
The field trip is essentially from Portland to Maupin. Specifically it follows U.S. Highway 26 from Gresham to Government Camp, where it takes the loop road up to Timberline Lodge and back, then continues on U.S. 26 to the junction with State Highway 216 which cuts directly east to Maupin (Centerplate). This route is ideal for such a trip in that most of the major vegetation types of the Cascades are displayed along the way. In addition, the highway passes very near Mount Hood and affords an opportunity to observe the ecotone between treeline and a tundra-like environment. The major weakness of the route is that it does not run directly east-west so the rapidity of changing environments is reduced. Nevertheless, next to the Columbia River Gorge, this is the most heavily used pass in the Oregon Cascades, and it is hoped that more people will take advantage of the field trip as a result.
Publication Date
3-1-1971
Publisher
Department of Geography Portland State University
Subjects
Forest ecology -- Oregon, Forest ecology -- Cascade Range, Cascade Range -- Description and travel -- Guidebooks
Disciplines
Physical and Environmental Geography
Persistent Identifier
http://archives.pdx.edu/ds/psu/13947
Recommended Citation
Price, Larry W., "Biogeography Field Guide to Cascade Mountains : Transect along U.S. Highway 26 in Oregon" (1971). Occasional Papers in Geography No. 1.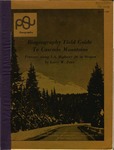 Included in
COinS