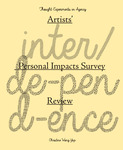 Title
Files
Download ChristineWongYap-interdependence-02-photo-AnnaAblogina.jpg (524 KB)
Download ChristineWongYap-interdependence-03-photo-AnnaAblogina.jpg (510 KB)
Download ChristineWongYap-interdependence-04-photo-AnnaAblogina.jpg (532 KB)
Download ChristineWongYap-interdependence-05-photo-AnnaAblogina.jpg (517 KB)
Download ChristineWongYap-interdependence-06-photo-AnnaAblogina.jpg (497 KB)
Download ChristineWongYap-interdependence-07-photo-AnnaAblogina.jpg (538 KB)
Download ChristineWongYap-interdependence-08-photo-AnnaAblogina.jpg (866 KB)
Download ChristineWongYap-interdependence-09-photo-AnnaAblogina.jpg (771 KB)
Download ChristineWongYap-interdependence-10-photo-AnnaAblogina.jpg (659 KB)
Download ChristineWongYap-interdependence-11.jpg (2.6 MB)
Download ChristineWongYap-interdependence-12.jpg (3.2 MB)
Download ChristineWongYap-interdependence-14.jpg (2.4 MB)
Download ChristineWongYap-interdependence-15.jpg (945 KB)
Download ChristineWongYap-interdependence-16.jpg (2.5 MB)
Publication Date
12-9-2015
Description
Inter/dependence comprises an installation of drawings, a zine, and a flag. They have their origins in the Artists' Personal Impacts Survey, a 40-question survey that I created and conducted to explore positive psychological benefits of art practice. The survey was completed by 112 visual artists.
Developed as part of Lower Manhattan Cultural Council's Process Space artist residency program in 2015.
Link to Artist Website
Keywords
interdependence; positive psychology; research; survey; visual artists; art worlds; textiles; publication; zine; diagrams; drawings; hand-lettering; participatory; qualitative; quantitative
Publication Location
Governor's Island, New York
City
Governor's Island, New York
Rights
The Art and Social Practice Archive materials are made available to the public under Creative Commons for personal, educational and non-commercial use within the parameters of "fair use" as defined under U.S. copyright law. No material will be reproduced, broadcast or distributed for commercial purposes.
Recommended Citation
Wong Yap, Christine and Shu, Jocelyn, "Interdependence" (2015). Interdependence. 1.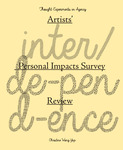 COinS