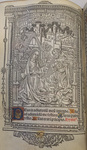 Title
Description
In Thielman Kerver's 1507 Book of Hours, a depiction of the Nativity of Christ is located in the Infancy Cycle within the Hours of the Virgin. Placement of this image in the Hours of the Virgin in the Prime section, which was used during the early morning, included devotion to Psalms 50, 62, and 89, as well as the Nativity scene. This essay discusses the symbolism included in this image in the context of the time of its publication.
Subjects
Book and manuscript illustration, engraving, Medieval Christian art and symbolism
Disciplines
Biblical Studies | History of Religion | Medieval History
Recommended Citation
Shaver, Jereme, "16, The Nativity" (2018). Kerver Book of Hours: 2018 Senior Capstone. 11.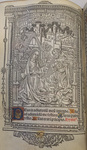 COinS