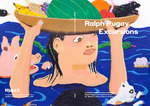 Description
Ralph Pugay: Excursions: A KSMoCA collaboration between Ralph Pugay and students from Dr. Martin Luther King Jr. School
This book presents two projects by Ralph Pugay. First, Excursions (2017), an exhibition of solo and collaborative works presented at KSMoCA, and second, A Long Line of Non-Partial Jurors (2018), a public art project commissioned by the Regional Arts and Culture Council and created in collaboration with KSMoCA.
Link to Artist Website
Key Words
KSMOCA, King School, Ralph Pugay, Participatory education
Publication Location
Portland, Oregon
Original Format
Print Publication, PDF
Rights
The Art and Social Practice Archive materials are made available to the public under Creative Commons for personal, educational and non-commercial use within the parameters of "fair use" as defined under U.S. copyright law. No material will be reproduced, broadcast or distributed for commercial purposes.
Recommended Citation
Pugay, Ralph, "Ralph Pugay: Excursions: A KSMoCA collaboration between Ralph Pugay and students from Dr. Martin Luther King Jr. School" (2019). King School Museum of Contemporary Art. 7.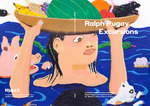 COinS