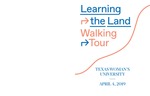 Publication Date
4-4-2019
Description
Learning the Land Walking Tour explores land use stories on the Texas Woman's University campus and in the surrounding area through a collection of sites that were selected and researched by TWU students and faculty in conversation with local community members. The tour is inspired by a range of past, present, and future land use topics—from Quakertown to the TWU Golf Course—and invites people to develop a deepened understanding and awareness of their surroundings.
Contributors: Morgan Fowler, Kamali Hill, Reyna Mondragon, Claudia Pacheco Orcasitas, Jonathan Pattiwael, Adrienne Schrag, Najwa Seyedmorteza, Randrea Singleton, Ashlea Sovetts, Michael Mulvey, Maria Villanueva, Agatha Beins, Sarah Gamblin, Molly Sherman
Link to Artist Website
Key Words
Land use, Story telling
Publication Location
Denton TX
Original Format
risograph publication
Rights
The Art and Social Practice Archive materials are made available to the public under Creative Commons for personal, educational and non-commercial use within the parameters of "fair use" as defined under U.S. copyright law. No material will be reproduced, broadcast or distributed for commercial purposes.
Recommended Citation
Sherman, Molly, "Learning the Land Walking Tour" (2019). Learning the Land Walking Tour. 1.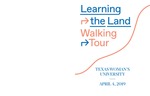 COinS