Preview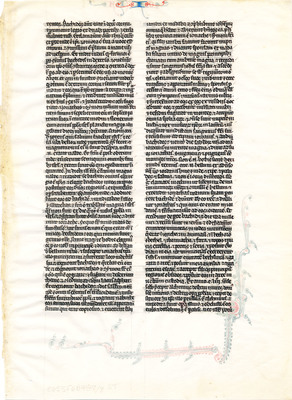 Description
Recto of manuscript leaf of Bible: Old Testament, Maccabees IX, 12-X, 22. Heading on recto: "I." Heading on verso: Macha[baeorum].
Two columns, 50 lines.
On verso, initial "E" is 3 lines high; ascender and descender along side and bottom of page in red and blue.
Modern printed text is found in any Biblia sacra vulagtae ed.(Latin bible, vulgate ed.).
Text reads (recto): "tentes Bathides autem erat in dextro cornu et proximauit legio ex duabus partibus et exclamabant tubis exclamauerunt autem...et dissolutum est peralisi nec ultra potui".
Text reads (verso): "loqui uerbum et mandare de domo suo amo tuus.../...et fecit arura copiosa. Et audiuit Demetrius uerba".
Modern text for the previous leaf probably starts with: "[Et mouit exercitus de castris et steterunt illis obuiam et diuisi sunt equites in duas partes et undibularii et sagitarii praeibant execitum et primi certaminis omnes po]." Modern text indicates probable continuation on next leaf: "[ista in constritatus est nimis et ait: Quid hoc fecimus]."
Rose-Wright Manuscript Collection no. 5.
Original Format
1 leaf; manuscript on vellum
Link to Medieval Portland Entry
Persistent Identifier
https://archives.pdx.edu/ds/psu/34711
Recommended Citation
"13, Leaf from Bible (Old Testament: Maccabees, IX, 12-X, 22)" (1240). Manuscripts and Incunabula in PSU Special Collections. 6.
https://archives.pdx.edu/ds/psu/34711