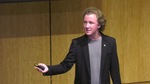 Title
Let Your Future Surprise You
Abstract
Blake Turner, a junior mechanical engineering student in the Maseeh College of Engineering and Computer Science, believes you shouldn't have to buy an expensive new Tesla to have a car that runs emissions free. He sees a future where cars will burn clean hydrogen and he created a $5000 conversion kit you can add to your car's existing gasoline engine.
Publication Date
10-16-2019
Recommended Citation
Turner, Blake, "Let Your Future Surprise You" (2019). PDXTalks. 2.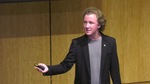 COinS