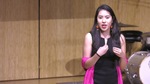 Abstract
One of Mariana Garcia Medina's earliest memories was of her mother waking her up in the middle of the night and telling her they were going to Disneyland. What they really did was climb over a border fence to begin their new life in the United States. Medina is now a "Dreamer," whose protection under Obama-era immigration laws was discontinued this year. An accomplished student leader before graduating from PSU, Medina worked for Portland City Commissioner Nick Fish. Medina was awarded the "Emerging Leader Award" in 2016 through the Center for Women's Leadership and is pursuing her Masters degree in Public Policy at USC.
Publication Date
10-18-2017
Disciplines
Race, Ethnicity and Post-Colonial Studies
Recommended Citation
Garcia Medina, Mariana, "Mariana Garcia Medina Assistant for Policy & Community Affairs, City of Portland CLAS '17" (2017). PDXTalks. 6.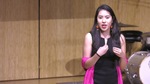 COinS