Preview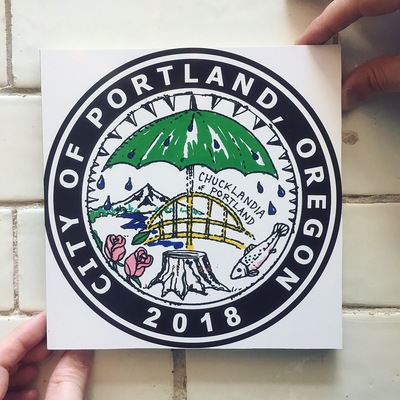 Creation Date
Spring 6-1-2018
Description
"In 1878, a committee picked a Mr. C. A. Bjourkman's design to be that of the Portland city seal. In today's City Hall atrium lies a podium emblazoned with our seal. In this session we will each design a new city seal based on what we think represents Portland today. From all the designs, including those by incarcerated individuals at the Columbia River Correctional Institution and kids at Martin Luther King, Jr. School, a vote and ceremony (featuring the figure of Portlandia performed by Emma Colburn) will take place to pick today's updated Portland City Seal, and the result will be officially proposed to City Hall."
The winning design by Daniel Bluestein referenced an 1879 late submission design with the words HIYU CHUCK, HIYU SALMON. According to my research, that means PLENTY WATER, PLENTY SALMON in Chinook language. The winning design was later presented to Mary Hull, City Auditor and Keeper of the City Seal.
Key Words
Seal -- Portland -- Oregon, Portland Archives and Records Center
Rights
The Art and Social Practice Archive materials are made available to the public under Creative Commons for personal, educational and non-commercial use within the parameters of "fair use" as defined under U.S. copyright law. No material will be reproduced, broadcast or distributed for commercial purposes.