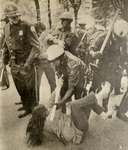 Title
Remembering May 11, 1970, and Moving Forward
Abstract
A video recording of the May 11, 2022 ceremony dedicating a plaque in the Park Blocks at Portland State University to commemorate a non-violent protest by PSU students against the Vietnam War and the Kent State killings in 1970. The protest precipitated an assault by the city's tactical police squad.
Speakers at the dedication included Portland State alumni and faculty who participated in and supported the protest, the creator of the commemorative plaque, PSU Interim Dean of Students Aimee Shattuck, and PSU President Stephen Percy.
Description
In May 1970, President Richard Nixon's expansion of the Vietnam War into Cambodia and the killing of four young people following an antiwar rally at Kent State University precipitated a nationwide student strike, soon joined by activists at Portland State.
After a week of demonstrations and activities around the university, Portland officials ignored a City-authorized permit and dispatched riot police to the Park Blocks to take down the strikers' hospital tent. When, in an act of non-violent civil disobedience, more than a hundred students and faculty defied an order to disperse, they were violently attacked, leaving 31 injured. The following day both strikers and their opponents united four thousand strong in a protest march to City Hall.
The Seventh Day, a prize-winning student film, documented the story of the Portland State strike, as did a booklet produced by participants and organizers and photos from then PSU Vanguard photographer, Tom Geil.
Following the 50th anniversary of the strike in 2020, members of the ad hoc May 11th Committee raised funds for a plaque to commemorate this chapter in the history of the university and the city. The installation was designed by John Laursen, 2020 recipient of the Governor's Arts Award and one of the creators of the Holocaust Memorial in Portland's Washington Park.
The plaque was installed on SW Park Avenue on the southwest corner of Park and Montgomery Street, just outside the Simon Benson House.
Further information on the commemorative event and media on the 1970 strike appears on the History Department page, Remembering May 11, 1970.
Persistent Identifier
https://archives.pdx.edu/ds/psu/38187
Rights
This digital access copy is made available as streaming media for personal, educational, and non-commercial use within the parameters of 'fair use' as defined under U.S. Copyright law. It cannot be reproduced, distributed, or screened for commercial purposes. For more information, please contact Special Collections at Portland State University Library at: specialcollections@pdx.edu or (503) 725-9883.
Recommended Citation
May 11 Committee, "Remembering May 11, 1970, and Moving Forward" (2022). Commemorative Events and Memorials. 1.
https://archives.pdx.edu/ds/psu/38187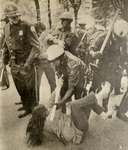 COinS