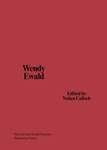 Description
"Wendy Ewald, edited by Nolan Calisch, offers a survey of the past and present work of photographer and conceptual artist Wendy Ewald, including insight into her collaborative process and inspiration, and a collection of thoughtful reflections from a collaborator, a colleague, and a contemporary artist who have been touched by her work.
This book is part of the Reference Points series published through Portland State University Art and Social Practice MFA Program. The series is an evolving pedagogical framework in which graduate students formulate and research a significant topic or practitioner(s) related to socially engaged art. Because the series is designed to shift and respond to the concerns of the program's current students and faculty, mode, structure, and content are open-ended."
Key Words
Reference Points, photography, socially engaged photography
Publication Location
Portland OR
Publisher
Publication Studio Portland
Original Format
printed book
Rights
The Art and Social Practice Archive materials are made available to the public under Creative Commons for personal, educational and non-commercial use within the parameters of "fair use" as defined under U.S. copyright law. No material will be reproduced, broadcast or distributed for commercial purposes.
Recommended Citation
Ewald, Wendy and Calisch, Nolan, "Wendy Ewald edited by Nolan Calisch" (2014). Reference Points. 1.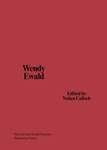 COinS