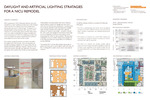 Abstract
SRG is proposing an NICU (Neonatal Intensive Care Unit) remodel for a major healthcare provider here in the Portland metro area.This is an intensive care unit for babies born prematurely and up to 6 months of age. The space is in an existing hospit al and has previously been used as an N ICU. However, it is currently being used as overflow office space and is now under consideration for being remodelled and re-commissioned as an N ICU.The healthcare provider who owns the hospit al has recently realized that this could be a value-added service for their business model.
Our research project focussed on two factors that affect the design of the NICU project. Fi rst, we researched any possible day-lighting strategies for the space along w ith any supplemental electric lighting as required . Second, we have researched circadian day/night cycle lighting for the spaces serving the infant patients, their families, and the hospital staff.
Unlike pediatric and adult patient care rooms which do require exterior windows for daylight and views, N ICU rooms do not have the same requirement. Currently, t here are no specific applicable codes requir ing natural daylight w ithin the NICU patient rooms other than a general reference of "access to natural light'. However, in the last few years, codes have changed to recommend natural light as a way of speeding up recovery and creating a more inviting space for visitors as well as pat ients. We have been challenged to find out whether adding natural daylight w ill, in fact, help premature and young infant s, or is darkness is actually preferable.
The existing NICU unit, has little available natural light to patient care areas and no natural light to staff work areas. Of the 15 existing N ICU patient rooms only six have exterior windows.
Rights
In Copyright. URI: http://rightsstatements.org/vocab/InC/1.0/ This Item is protected by copyright and/or related rights. You are free to use this Item in any way that is permitted by the copyright and related rights legislation that applies to your use. For other uses you need to obtain permission from the rights-holder(s).
Persistent Identifier
https://archives.pdx.edu/ds/psu/38207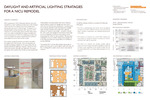 Included in
COinS