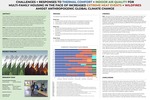 Abstract
This research sought to investigate the perceived occupant comfort levels given the reality of global climate change and the increasing occurrence of extreme weather events. The research conducted was two-fold. First, a community engagement questionnaire was developed and administered to solicit qualitative feedback from community members. Simultaneously, scientific literature was researched and reviewed surrounding specifically identified events related to changing climate conditions: extreme heat events (EHEs) and wildfires (WF).
Heat is the leading cause of weather-related mortality in the United States. EHEs are categorized as summertime weather that is substantially hotter and/or more humid than average for a location at that time of year. With 100% relative humidity, the upper threshold for humans is a wet bulb temperature of 95°F. Above this temperature, humans begin to experience hyperthermia, which can lead to heat exhaustion, heat stroke, and death. In this research, phase change materials (PCMs) were identified as a probable avenue of further research into responses to EHEs.
Wildfires pose a particular risk to buildings located in the Wildland-Urban-Interface (WUI). While the greatest threat from wildfires to building structures occurs in rural and suburban WUI areas, adjacent urban areas are susceptible to hazardous air quality from smoke. Resilient design strategies including structure hardening and the creation of defensible space may be advantageous in WUI areas. However, a more urgent urban and multi-family housing priority may be the protection of indoor air quality for building occupants.
Rights
In Copyright. URI: http://rightsstatements.org/vocab/InC/1.0/ This Item is protected by copyright and/or related rights. You are free to use this Item in any way that is permitted by the copyright and related rights legislation that applies to your use. For other uses you need to obtain permission from the rights-holder(s).
Persistent Identifier
https://archives.pdx.edu/ds/psu/38105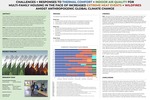 Included in
COinS