Link to Artist Website
Preview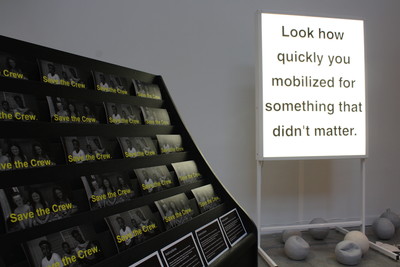 Description
Mona Gazala, John Thorne, Scott Woods, Joe Motil
Saving the Crew that Matters is a social practice artwork and civic project that calls into question the priorities of Columbus city leaders. Why is the construction of a new Crew stadium being heavily subsidized with tax money while public school buildings continue to go without vital repairs and updates? Why does city spending appear to be prioritizing projects that benefit only rich and predominantly white constituents, while leaving the rest of Columbus behind? This project consists of signage and postcards available for public distribution. Those who want to express their views and participate in the project can utilize the resources provided. Instead of "Save the Crew" meaning Columbus Crew soccer, what crew should we be saving? The Human Library, also part of this project, is an interactive resource for people interested in gathering live, first-person research on Columbus civic and social justice issues. At each session, a featured human or humans will be available to give their perspective on the Crew stadium funding controversy and the state of Columbus city schools as an opening conversation. Questions and tangents to other civic matters thereafter by library users are welcome.
The Human Library took place at the Urban Arts Space during these dates and times:
Saturday Feb 22, 5:30-6:30pm, with Scott Woods
Wednesday, Feb 26, 1-2pm, with Joe Motil and Melody McDowell Reed
Thursday, March 5, 4-5pm with Laura Recchie and Michael Skelton
Key Words
City budget, Civic priorities
Rights
The Art and Social Practice Archive materials are made available to the public under Creative Commons for personal, educational and non-commercial use within the parameters of "fair use" as defined under U.S. copyright law. No material will be reproduced, broadcast or distributed for commercial purposes.
Keywords
city budget, civic priorities
COinS