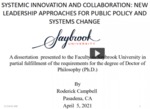 Abstract
We are increasingly facing highly interdependent issues that span stakeholder, jurisdictional, and geopolitical boundaries which have to be managed rather than solved. We know that traditional policy and management approaches can make a useful contribution; however, the wide variety of wicked problems evident in contemporary public policy challenges call for new approaches. This dissertation proposes a framework for the use of systems and systemic leadership, including cybernetic aspects, to improve the way that organizations can be diagnosed in the complex change situations that must be managed.
Using the case study research method, this dissertation examines the main organizational and leadership dimensions emerging from members of the systems community represented by the International Society for the Systems Sciences and the OR Society. Through literature review and interviews, I identify several recent approaches to systems thinking. collaboration and coordination and the adaptive leadership roles of public sector leaders, policymakers and managers.
Study responses were analyzed to develop a new leadership framework which includes systems the systemic leadership. This framework could signify an opportunity to help build capacity to lead networks of individuals, organizations, and societies of people to learn together systemically in pursuit of an aim of successfully managing the organizational and situational aspects of the issues that comprise most wicked problems.
The outcomes of this study of systems science use in public policy, specifically wicked policy problems, expands the use and application of systems-based approaches, methods and strategies to include the field of public policy and administration. By identifying and articulating these approaches, we fill in a knowledge gap in the literature and practical application of systems use in policy, and affirms the existence of a systems-policy interface, which serves as the basis for additional research and applications, prospective new theories and collaboration and an emerging field of study.
Biographical Information
Roderick Campbell currently chairs the Student Member Special Integration Group (SIG) of the International Society for Systems Sciences (ISSS). Roderick is a recent graduate from the PhD program in Systems Sciences at Saybrook University. His concentration in policy and systems leads him to the study of problem-solving methods in complex situations, organizations and society. Through the employment of systems and complexity science, he provides reframing, augments advice and executes coaching and consultation to incubate solutions to our most pressing public policy concerns. Previously, Roderick served as a subject matter expert for the California Electricity Oversight Board, Department of Education, State Assembly, State Senate, and Public Utilities Commission. Roderick held academic positions at Carnegie Mellon University, Sacramento State University and Saybrook University. Roderick earned his M.S. in Public Management and Policy from Carnegie Mellon University, and his B.S. in Social Science from the University of California, Berkeley.
Subjects
Systems science, Public policy, Management
Disciplines
Systems Science
Persistent Identifier
https://archives.pdx.edu/ds/psu/36890
Rights
© Copyright the author(s)

IN COPYRIGHT:
http://rightsstatements.org/vocab/InC/1.0/
This Item is protected by copyright and/or related rights. You are free to use this Item in any way that is permitted by the copyright and related rights legislation that applies to your use. For other uses you need to obtain permission from the rights-holder(s).
DISCLAIMER:
The purpose of this statement is to help the public understand how this Item may be used. When there is a (non-standard) License or contract that governs re-use of the associated Item, this statement only summarizes the effects of some of its terms. It is not a License, and should not be used to license your Work. To license your own Work, use a License offered at https://creativecommons.org/
Recommended Citation
Campbell, Roderick, "Systemic Innovation and Collaboration: New Leadership Approaches for Public Policy And Systems Change" (2021). Systems Science Friday Noon Seminar Series. 100.
https://archives.pdx.edu/ds/psu/36890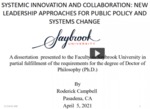 COinS