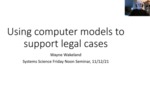 Abstract
Computer models are frequently published and therefore scrutinized by peers. Authors must provide detailed model documentation, and sometimes model-based papers are rejected due to inadequate documentation and/or model weaknesses (in the opinion of reviewers). Computer models are less frequently used in court cases to support expert testimony. Such testimony is often submitted initially as an expert report on behalf of the plaintiffs or defendants. The expert is subsequently "deposed" (questioned under oath) by the opposing side. This questioning can be very confrontive and may delve into other work published by the expert as well as the submitted expert report. If the case goes to trial (most do not; they are settled "out of court"), the expert will likely be called to testify by "their" side and cross-examined by the other side. Since the stakes can be quite high (billions of dollars), the examination of the expert's work may be more thorough than a typical peer review process. This talk will give an overview of the framework for using computer models in sworn testimony and then describe a specific recent example related to the opioid epidemic in which the speaker provided a model-based expert report. He had previously published a number of model-based papers on the subject.
Biographical Information
Wayne Wakeland is a PSU professor and the Systems Science Program chair. His research and teaching focus on computer simulation. Subject areas included biomedical applications, including traumatic brain injury, and health policy, especially related to the opioid epidemic. His training was in engineering initially and then Systems Science in the mid-seventies. He worked in industry for many years prior to becoming a full-time academic.
Subjects
Opioid abuse, System analysis, System dynamics
Disciplines
Law | Systems Science
Persistent Identifier
https://archives.pdx.edu/ds/psu/36992
Rights
© Copyright the author(s)

IN COPYRIGHT:
http://rightsstatements.org/vocab/InC/1.0/
This Item is protected by copyright and/or related rights. You are free to use this Item in any way that is permitted by the copyright and related rights legislation that applies to your use. For other uses you need to obtain permission from the rights-holder(s).
DISCLAIMER:
The purpose of this statement is to help the public understand how this Item may be used. When there is a (non-standard) License or contract that governs re-use of the associated Item, this statement only summarizes the effects of some of its terms. It is not a License, and should not be used to license your Work. To license your own Work, use a License offered at https://creativecommons.org/
Recommended Citation
Wakeland, Wayne, "Using Computer Models to Support Court Cases" (2021). Systems Science Friday Noon Seminar Series. 103.
https://archives.pdx.edu/ds/psu/36992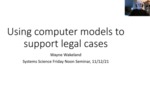 COinS