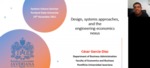 Abstract
Economics and engineering are discovering new opportunities for cross-fertilization. This is partly given to the advent of modern artificial intelligence methods. These opportunities have appeared in the past, resulting in marginal improvements toward integration. Over the years, there has been an intertwining of the two disciplines along the progression of economics for/and/as engineering. A real transdisciplinary integration implies a mutual nurturing, where one discipline ́s conceptual apparatus is incorporated into the other. A fine-grained view of the epistemological differences of the two disciplines reveals that an integration might be more likely along some, but not all directions. I will explain these differences based on different connotations of the concept of design. Particularly, when referring to design aspects of social systems, I will also argue that systems approaches may serve as a bridge to integrate economics and engineering. Finally, I will offer alternatives to explore how this integration might be undertaken.
Biographical Information
Cesar Garcia-Diaz is an associate professor at the Department of Business Administration of the Pontificia Universidad Javeriana (Bogota, Colombia). He holds BSc / MSc degrees in industrial engineering form Colombian universities, and a PhD degree in Economics and Business from the University of Groningen (the Netherlands). He was a postdoctoral researcher at the Center of Evolutionary Demography of the University of Antwerp (Belgium), and has held visiting positions at the School of Management of the University of Texas at Dallas and at the Center for Research in Social Simulation of the University of Surrey (United Kingdom). His research interests are at the intersection of systems science, computational modeling, and social complexity.
Subjects
Interdisciplinary research, Economics, Engineering, System analysis -- Methodology
Disciplines
Systems Science
Persistent Identifier
https://archives.pdx.edu/ds/psu/36993
Rights
© Copyright the author(s)

IN COPYRIGHT:
http://rightsstatements.org/vocab/InC/1.0/
This Item is protected by copyright and/or related rights. You are free to use this Item in any way that is permitted by the copyright and related rights legislation that applies to your use. For other uses you need to obtain permission from the rights-holder(s).
DISCLAIMER:
The purpose of this statement is to help the public understand how this Item may be used. When there is a (non-standard) License or contract that governs re-use of the associated Item, this statement only summarizes the effects of some of its terms. It is not a License, and should not be used to license your Work. To license your own Work, use a License offered at https://creativecommons.org/
Recommended Citation
Garcia-Diaz, Cesar, "Design, Systems Approaches and the Engineering-economics Nexus" (2021). Systems Science Friday Noon Seminar Series. 104.
https://archives.pdx.edu/ds/psu/36993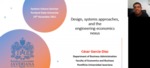 COinS