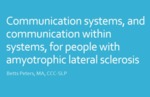 Abstract
Amyotrophic lateral sclerosis (ALS) is a progressive neurodegenerative disease that causes muscle weakness and loss of voluntary motor function, ultimately resulting in partial or complete paralysis. Many people with ALS experience speech or voice changes and can benefit from augmentative and alternative communication (AAC) approaches, such as gestures, writing, or mobile devices with speech-generating software. The goal of AAC intervention is to not only restore communicative function, but enable active participation in communication situations that arise in everyday life. Success with communication and participation is affected by the physical symptoms of ALS, but also by a variety of personal and environmental factors, including individual needs and preferences, the demands of particular communication situations or partners, available technology and support, and fluctuations in physical function or energy level. This seminar will describe the presenter's dissertation research exploring current communication methods used by people with ALS, how they view their communicative participation, and factors that may lead to better communication outcomes in this population.
Biographical Information
Betts Peters, MA, CCC-SLP, is a speech-language pathologist, a Senior Clinical Research Associate at Oregon Health & Science University, and a PhD candidate in the Systems Science program at Portland State University. Her research interests include brain-computer interfaces and other innovative assistive technologies for people with severe disabilities, as well as improving communication options and service delivery for people losing their speech due to ALS. Her clinical work has focused on communication supports and other assistive technologies for people with ALS and on pre- and intra-operative language and cognitive testing for patients undergoing awake craniotomy.
Subjects
Communicative disorders -- Patients -- Rehabilitation, Rehabilitation technology, Amyotrophic lateral sclerosis
Disciplines
Systems Science
Persistent Identifier
https://archives.pdx.edu/ds/psu/37011
Rights
© Copyright the author(s)

IN COPYRIGHT:
http://rightsstatements.org/vocab/InC/1.0/
This Item is protected by copyright and/or related rights. You are free to use this Item in any way that is permitted by the copyright and related rights legislation that applies to your use. For other uses you need to obtain permission from the rights-holder(s).
DISCLAIMER:
The purpose of this statement is to help the public understand how this Item may be used. When there is a (non-standard) License or contract that governs re-use of the associated Item, this statement only summarizes the effects of some of its terms. It is not a License, and should not be used to license your Work. To license your own Work, use a License offered at https://creativecommons.org/
Recommended Citation
Peters, Betts, "Communication Systems, and Communication Within Systems, for People with Amyotrophic Lateral Sclerosis" (2022). Systems Science Friday Noon Seminar Series. 107.
https://archives.pdx.edu/ds/psu/37011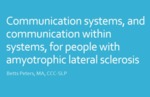 COinS