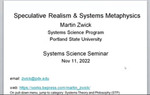 Format
Video: MP4; File size: 187 MB; Duration: 01:04:21
Abstract
Recent developments in Continental philosophy have included emergence of a school of "speculative realism" which rejects the human-centered orientation that has long dominated Continental thought, but also opposes naïve realism or positivism. Proponents of speculative realism differ on several issues, but most agree on the need for an object-oriented ontology. Speculative realists who draw upon Marxist thought identify realism with materialism, while others accord equal reality to objects that are non-material, even fictional. Several thinkers in this school retain a focus on difference, a well-established theme in Continental thought. This paper looks at speculative realism from the perspective of the metaphysics of systems theory. Many of the tenets of speculative realism have long been features of systems thought and are expressed clearly in a systems framework. In its comments on speculative realism, this paper summarizes some basic ideas of systems theory/philosophy. It was presented at the Northwest Philosophy Conference (NPC), Oct 28, 2022, at Lewis and Clark College. The paper and associated slides can be downloaded from https://pdxscholar.library.pdx.edu/sysc_fac/237 .
Biographical Information
Martin Zwick is a Professor of Systems Science at Portland State University. His first professional position was in the Department of Biophysics & Theoretical Biology at the University of Chicago. In the 1970's his interests shifted to systems theory and methodology. Since 1976 he has been on the faculty of the Systems Science Program and during the years 1984-1989 he was the program head. In 2009, he was awarded the Branford Price Millar award for faculty excellence. His research interests are in discrete multivariate modeling (reconstructability analysis), theoretical biology and Artificial Life, and systems theory and philosophy. Scientifically, his focus is on applying systems theory and methodology to the natural and social sciences, especially to data analysis. Philosophically, his focus is on how systems ideas relate to classical and contemporary philosophy and how they help us understand and address societal problems. His book, Elements and Relations, a synthesis of the theory side of the systems field, is now being copy-edited by Springer and will be published in 2023.
Subjects
Systems Metaphysics, Speculative Realism -- Problem Solving, Systems Science
Disciplines
Systems Science
Persistent Identifier
https://archives.pdx.edu/ds/psu/38770
Rights
© 2022 Martin Zwick
This work is licensed under a Creative Commons Attribution-NonCommercial-NoDerivatives 4.0 International License.
Recommended Citation
Zwick, Martin, "Speculative Realism and Systems Metaphysics" (2022). Systems Science Friday Noon Seminar Series. 120.
https://archives.pdx.edu/ds/psu/38770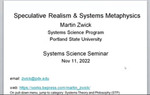 COinS