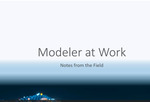 Format
Video: MP4; File size: 377.5 MB; Duration: 01:03:07
Abstract
I have been working at OHSU since May, 2020 building simulation models for operational decision support. Simulation modeling is not all I do—I also do some standard statistical forecasting and report generation, but simulation modeling is the core of what I do. At this seminar, I will present three discrete event simulation models I'm actively developing so students can get a glimpse of what it's like to take course work into action. The projects vary considerably in size from a single hospital department to all hospitals and residential facilities in the state, but share a common general goal to understand the potential impacts of operational changes on capacity and throughput—getting people the right care in the right environment at the right time with highly constrained resources.
Project 1: Can Interventional Radiology make different choices in day to day scheduling and prioritization to reduce wasteful downtime during the working hours and costly overtime, even with a complex mix of patients and highly variable procedure times?
Project 2: Under what conditions can Doernbecher Children's Hospital continue to serve its primary patient population to the same standard if 8 typically unoccupied rooms are "loaned" to adult acute care at OHSU?
Project 3: The Oregon Behavioral Health Coordination Center will provide real time data on behavioral health capacity, requested transfers, and pending admissions among a few pilot hospitals and behavioral health facilities. How might coordination impact the overall behavioral health system in Oregon, given extreme capacity strain, complex procedures, and shifting state policies?
For each of these projects, I'll primarily focus on the practitioner experience including: fundamental choices: modeling method, software, level of abstraction, and scope processes: data exploration, getting immersed in subject matter, communication (both successes and "learning opportunities") things learned along the way
Biographical Information
I'm Alex Nielsen and I received a PhD in Systems Science in 2018. I've been working at OHSU as a simulation modeler, and all-around data wrangler since 2020. I teach Discrete Event Simulation on occasion, and have professional experience building Agent Based Simulation Models, System Dynamics Models, and Discrete Event Simulation Models primarily in the public health, behavioral health, and hospital operations areas. I run, knit, spin, and live with a bunch of farm animals up in SW Washington.
Subjects
Simulation Modeling, Management -- Simulation methods
Disciplines
Systems Science
Persistent Identifier
https://archives.pdx.edu/ds/psu/39228
Rights
© 2023 Alex Nielsen
IN COPYRIGHT: http://rightsstatements.org/vocab/InC/1.0/ This Item is protected by copyright and/or related rights. You are free to use this Item in any way that is permitted by the copyright and related rights legislation that applies to your use. For other uses you need to obtain permission from the rights-holder(s).
DISCLAIMER: The purpose of this statement is to help the public understand how this Item may be used. When there is a (non-standard) License or contract that governs re-use of the associated Item, this statement only summarizes the effects of some of its terms. It is not a License, and should not be used to license your Work. To license your own Work, use a License offered at https://creativecommons.org/
Recommended Citation
Nielsen, Alex, "Modeler at Work: Notes from the Field" (2023). Systems Science Friday Noon Seminar Series. 124.
https://archives.pdx.edu/ds/psu/39228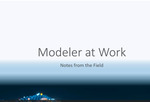 COinS