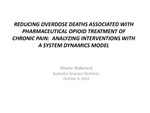 Abstract
A dramatic rise in the use pharmaceutical opioids to treat pain, and the associated opioid abuse and addiction, has created a substantial public health problem in the United States. Effective tools and interventions are needed to identify policies to reduce opioid abuse, addiction, and overdose deaths. A system dynamics model is used to identify policy interventions that will reduce the prevalence of adverse outcomes attributed to pharmaceutical opioids. Results suggest that it will be difficult to minimize negative outcomes without adversely affecting the degree to which chronic pain patients can access pharmaceutical treatment, and also indicate the importance of the metric(s) chosen for evaluating effectiveness.
Biographical Information
Wayne Wakeland earned a B.S. in Engineering and a Master of Engineering from Harvey Mudd College in 1973, and a Ph.D. in Systems Science from PSU in 1977. Wayne began a career in industry, and taught computer modeling and simulation courses at PSU in the evening. Eventually, Wayne became an Associate Professor of Systems Science at PSU with a continued focus on computer simulation methods. His research emphasizes sustainable systems and management, health system dynamics, fishery dynamics, criminal justice system simulation, and biomedical dynamics. Since 2007, Wayne has also taught systems thinking at the Bainbridge Graduate Institute.
Subjects
Chronic pain -- Management, Outcome assessment (Medical care), Opioids -- Therapeutic use, Opioid abuse -- Treatment, System dynamics
Disciplines
Other Chemicals and Drugs | Substance Abuse and Addiction
Persistent Identifier
https://archives.pdx.edu/ds/psu/31001
Rights
© Copyright the author(s)

IN COPYRIGHT:
http://rightsstatements.org/vocab/InC/1.0/
This Item is protected by copyright and/or related rights. You are free to use this Item in any way that is permitted by the copyright and related rights legislation that applies to your use. For other uses you need to obtain permission from the rights-holder(s).
DISCLAIMER:
The purpose of this statement is to help the public understand how this Item may be used. When there is a (non-standard) License or contract that governs re-use of the associated Item, this statement only summarizes the effects of some of its terms. It is not a License, and should not be used to license your Work. To license your own Work, use a License offered at https://creativecommons.org/
Recommended Citation
Wakeland, Wayne, "Reducing Overdose Deaths Associated with Pharmaceutical Opioid Treatment of Chronic Pain: Analyzing Interventions with a System Dynamics Model" (2010). Systems Science Friday Noon Seminar Series. 18.
https://archives.pdx.edu/ds/psu/31001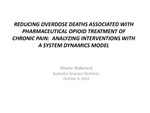 COinS