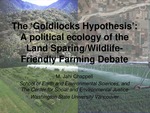 Abstract
Proposals for biodiversity conservation as related to the dominant form of human land use, agriculture, have broadly coalesced around two paradigms: "Land sparing" and "Wildlife-friendly farming." Neither paradigm is sufficiently grounded in the more complex socioeconomic realities of the food system with regards to another paramount problem of our time: widespread malnutrition. However, the "land sparing" paradigm's simplistic approach to food, policy, and ecosystem dynamics is arguably more egregiously out of sync with current knowledge. The talk will present a conceptual view of food systems, hunger, and biodiversity conservation, with the goal of generating discussion on how to systematically integrate the different and sometimes clashing perspectives different academic areas bring to this debate. Without more sophisticated, integrative, and value-explicit assessments and models, and the recognition of the need for discontinuous change, we risk intensifying a system known to have severe consequences for biodiversity alongside notable failures to reduce hunger, or alternatively, modifying it in ways that ameliorate neither problem.
Biographical Information
Jahi Chappell is assistant professor of Environmental Science and Justice in the School of Earth and Environmental Sciences and faculty affiliate of the Center for Social and Environmental Justice at Washington State University Vancouver. His research on the political ecology of sustainable development focuses on the issues of food security, agroecology, conservation biology, and social and environmental justice. Practically speaking, this involves study of the design, development and implementation of food and conservation policies at various scales, with a specific focus on how one may influence (and hopefully support) the other. To do this, he applies tools from diverse areas, from political science, sociology, anthropology, science and technology studies and economics to metapopulation theory, theoretical biology, agroecology, and conservation and community ecology. Rather than attempting to specialize in all of these areas simultaneously, he specializes in synthesizing their approaches and research and on making their perspectives mutually intelligible. His work thus vitally depends on the cultivation and maintenance of collaboration with a diverse group of scholars and practitioners.

His research to date has focused on the ecological implications of the unprecedented successes of the city of Belo Horizonte, Brazil in addressing food security. He plans to continue and expand his research of Brazilian food policy systems, as well as to begin study on the effects and implications of urban agriculture on food security and biodiversity in the Portland-Vancouver area.
Subjects
Biodiversity conservation, Land use -- Social aspects, Land use -- Environmental aspects, Agricultural landscape management, Agricultural systems
Disciplines
Agricultural and Resource Economics | Environmental Policy
Persistent Identifier
https://archives.pdx.edu/ds/psu/31010
Rights
© Copyright the author(s)

IN COPYRIGHT:
http://rightsstatements.org/vocab/InC/1.0/
This Item is protected by copyright and/or related rights. You are free to use this Item in any way that is permitted by the copyright and related rights legislation that applies to your use. For other uses you need to obtain permission from the rights-holder(s).
DISCLAIMER:
The purpose of this statement is to help the public understand how this Item may be used. When there is a (non-standard) License or contract that governs re-use of the associated Item, this statement only summarizes the effects of some of its terms. It is not a License, and should not be used to license your Work. To license your own Work, use a License offered at https://creativecommons.org/
Recommended Citation
Chappell, M. Jahi, "The 'Goldilocks Hypothesis' : A Political Ecology of the Land-sparing/Wildlife-friendly Farming Debate" (2010). Systems Science Friday Noon Seminar Series. 24.
https://archives.pdx.edu/ds/psu/31010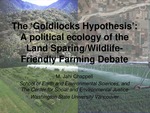 COinS