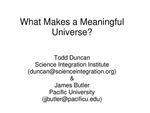 Abstract
A common line of thinking says that although we feel subjectively that our thoughts and actions matter in some way, this perception is an illusion. According to this view, an honest look around at the universe shatters this myth and reveals that our lives are ultimately meaningless. If we are to be hard-nosed realists, limiting ourselves to scientific, evidence-based reasoning, then we must accept that human existence is an inconsequential accident of no ultimate significance in the grand scheme of things. Is this attitude really justified by the evidence? We'll explore this question by taking a step back and asking what properties a hypothetical "meaningful universe" might have if we had complete freedom to set it up from scratch.
Biographical Information
Todd Duncan is a cosmologist whose work is guided by the theme of better understanding how our immediate human experiences connect to a cosmic perspective that gives them meaning. He combines a research background in physics with experience teaching science concepts to a wide range of audiences. He's the author of An Ordinary World: The Role of Science in Your Search for Personal Meaning, and coauthor of Your Cosmic Context: An Introduction to Modern Cosmology. Todd received his undergraduate degree in physics from the University of Illinois, an M. Phil. from Cambridge University as a Churchill Scholar, and a doctorate in astrophysics from the University of Chicago where he was an NSF and McCormick Fellow. He joined the faculty of the Center for Science Education at Portland State University in 1997 to pursue his interest in interdisciplinary "big questions" research and its application to science education. In 1998 he founded the Science Integration Institute as a forum for exploring what it means to be human in the universe as understood by modern science. He is currently director of the Science Integration Institute and adjunct faculty in the Center for Science Education at PSU and the Physics Dept. at Pacific University.
James Butler is an experimental physicist whose career has focused on teaching at the undergraduate level and involving students in nonlinear optics research. He is co-author of twenty-four publications and professional conference presentations (many with undergraduate students) and he has been principal investigator for over $650,000 in grants from agencies such as the National Science Foundation, Research Corporation, M.J. Murdock Charitable Trust, and Naval Research Laboratory (NRL). James received a B.S. in physics from Eastern Oregon University and both an M.S. and Ph.D. in physics from Lehigh University. He joined the faculty at the United States Naval Academy in 1999 as an Assistant Professor of Physics to pursue his passions of teaching and experimental optics research. Shortly thereafter James began collaborating with colleagues at NRL in order to investigate the nonlinear optical properties of materials used for protection from high intensity laser damage. In 2004, James joined the faculty at Pacific University as an Associate Professor of Physics where he has played an active role in the development and implementation of innovative teaching methods and has continued his nonlinear optics research with undergraduate students and NRL scientists. James is currently Director of Undergraduate Research and Chair of the Physics Department at Pacific University.
Subjects
Meaning (Philosophy), System theory, Materialism, Science
Disciplines
Theory and Philosophy | Theory, Knowledge and Science
Persistent Identifier
https://archives.pdx.edu/ds/psu/31016
Rights
© Copyright the author(s)

IN COPYRIGHT:
http://rightsstatements.org/vocab/InC/1.0/
This Item is protected by copyright and/or related rights. You are free to use this Item in any way that is permitted by the copyright and related rights legislation that applies to your use. For other uses you need to obtain permission from the rights-holder(s).
DISCLAIMER:
The purpose of this statement is to help the public understand how this Item may be used. When there is a (non-standard) License or contract that governs re-use of the associated Item, this statement only summarizes the effects of some of its terms. It is not a License, and should not be used to license your Work. To license your own Work, use a License offered at https://creativecommons.org/
Recommended Citation
Duncan, Todd and Butler, James, "What Makes a Meaningful Universe?" (2010). Systems Science Friday Noon Seminar Series. 27.
https://archives.pdx.edu/ds/psu/31016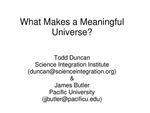 COinS