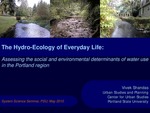 Abstract
Driven in part by the imminent threats of population growth and climate destabilization, recent studies suggest that urban areas face severe water scarcity, with some areas in Australia and the United States already instituting moratoria on water use. While water managers traditionally avoid such crises by developing demand forecasts based on population estimates, technological developments, and weather predictions, their analysis are often at a regional scale with aggregate measures of water consumption. To date, there exists limited empirical evidence about how urban spatial structure and concomitant socio-demographic and temperature characteristics mutually interact to affect water demand at the scale of individual land uses. In this presentation, we use geographic information systems and statistical techniques to assess the role of social and biophysical factors as they impact water use. At the regional scale, our results suggest that specific thresholds of density can improve water conservation efforts, and at the parcel scale, several sociodemographics and structural attributes, including lot and building size, help explain over 75% of water use behavior. In addition, our results suggest a strong and significant relationship between urban heat and water consumption. Based on our results, we develop future water use scenarios and provide recommendations to water managers and land use planning bureaus to improve urban water management during alternative climate scenarios.
Biographical Information
Vivek Shandas is an assistant professor in the Toulan School of Urban Studies and Planning, and a Research Associate in the Center for Urban Studies at Portland State University. His research interests focus on three areas: (1) the impact of urban development patterns on water quality; (2) drivers of human behavior and decision making; and (3) effectiveness of interdisciplinary approaches in higher education. He teaches graduate courses in geographic information systems, environmental planning, and research methods in urban studies. Vivek has an undergraduate degree in biology (BS), graduate degrees in economics (MS) and environmental policy (MS), and completed his doctoral work in Urban Design and Planning at the University of Washington (Seattle). He publishes widely in social and natural science journals, and serves as a technical advisor on several local and State organizations.
Subjects
Hydrology -- Oregon -- Portland Metropolitan Area, Water use -- Oregon -- Portland Metropolitan Area -- Environmental aspects, Area, Water use -- Oregon -- Portland Metropolitan Area -- Social aspects, Land use -- Planning
Disciplines
Hydrology | Urban Studies | Water Resource Management
Persistent Identifier
https://archives.pdx.edu/ds/psu/31018
Recommended Citation
Shandas, Vivek, "The Hydro-ecology of Everyday Life: Assessing the Social and Environmental Determinants of Water Use in the Portland Region" (2010). Systems Science Friday Noon Seminar Series. 29.
https://archives.pdx.edu/ds/psu/31018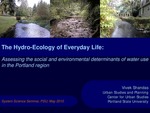 COinS