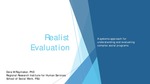 Abstract
Realist evaluation, a theory-driven approach to program evaluation grounded in realist philosophy, is designed to address the question: What works for whom, to what extent, in what circumstances, and why? It is emerging as a powerful alternative to traditional approaches to intervention evaluation, such as randomized control trials, particularly in settings of high complexity and/or high stakeholder heterogeneity. Realist evaluation takes a holistic, non-linear, systems approach, and can support any research methodologies. This seminar provides an overview of realist evaluation and discussion of potential applications with programs targeting social change.
Biographical Information
Dora Raymaker, Ph.D., is a Research Assistant Professor at Portland State University's Regional Research Institute for Human Services in the School of Social Work, Co-director of the Academic Autism Spectrum Partnership in Research and Education (AASPIRE), and the associate editor of the journal "Autism in Adulthood." Dr. Raymaker's research interests broadly include community-engaged practice, systems thinking, measurement, and the dynamics at the intersection of science, society, and public policy. In application, Dr. Raymaker conducts intervention research in collaboration with disability and mental health communities, primarily to improve employment outcomes, increase self-determination, and reduce discrimination and stigma. In the remaining three minutes of free time, Dr. Raymaker enjoys writing fiction and making multimedia art, including science fiction mystery novels Hoshi and the Red City Circuit and Resonance.
Subjects
Social case work -- Evaluation, Social case work -- Research, Social case work -- Methodology, System theory -- Applications to social work, Social change
Persistent Identifier
https://archives.pdx.edu/ds/psu/32424
Rights
© Copyright the author(s)

IN COPYRIGHT:
http://rightsstatements.org/vocab/InC/1.0/
This Item is protected by copyright and/or related rights. You are free to use this Item in any way that is permitted by the copyright and related rights legislation that applies to your use. For other uses you need to obtain permission from the rights-holder(s).
DISCLAIMER:
The purpose of this statement is to help the public understand how this Item may be used. When there is a (non-standard) License or contract that governs re-use of the associated Item, this statement only summarizes the effects of some of its terms. It is not a License, and should not be used to license your Work. To license your own Work, use a License offered at https://creativecommons.org/
Recommended Citation
Raymaker, Dora, "Realist Evaluation: A Systems Approach for Understanding and Assessing Complex Social Programs" (2020). Systems Science Friday Noon Seminar Series. 68.
https://archives.pdx.edu/ds/psu/32424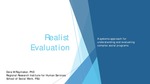 Included in
COinS