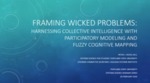 Abstract
Wicked problems are issues facing human social systems that are persistent or reoccurring, have difficult-to-detect origins, complex networks of causation, and that respond to interventions by generating undesirable unintended consequences. This talk will briefly outline how the idea of collective intelligence may provide valuable insight towards framing these problems and how participatory modeling and fuzzy cognitive mapping techniques can be used to harness this insight. These techniques will be explored in a short collaborative modeling session using the web-based, open source Mental Modeler software.
Biographical Information
Peter is a Systems Science PhD student at Portland State University where he completed a master's degree following his study of general systems theory, complex adaptive systems, and computer modeling & simulation. He earned his bachelor's degree in Emergency Medicine from the University of Pittsburgh, worked as a paramedic domestically and abroad, and served as the lead technical consultant for an emergency medical service (EMS) development project in Kerala, India. In 2019 Peter won the Sir Geoffrey Vickers Memorial Award from the International Society for the Systems Sciences for preliminary development of his "clinical systemics" framework, a concept which seeks to generalize isomorphic patterns from modern medicine for the purpose of remedying pathologies in complex living systems. Peter co-founded the Cascadia Systems Institute as a vehicle for utilizing these concepts in a public policy context, furthering his ultimate goal of assisting local and regional communities, governments, and organizations in becoming more resilient, self-sufficient, and healthy in a changing world.
Subjects
Social problems -- Environmental aspects, System theory, Swarm intelligence -- Applications to system theory, Fuzzy decision making, Cognitive maps (Psychology)
Disciplines
Systems Engineering | Theory, Knowledge and Science
Persistent Identifier
https://archives.pdx.edu/ds/psu/32444
Recommended Citation
Roolf, Peter, "Framing Wicked Problems: Harnessing Collective Intelligence with Participatory Modeling and Fuzzy Cognitive Mapping" (2020). Systems Science Friday Noon Seminar Series. 71.
https://archives.pdx.edu/ds/psu/32444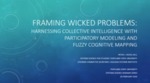 COinS