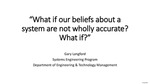 Abstract
For most people, a system is a construct with vexing complexities, many many parts, and perhaps wrapped with a goal or intention. Add to that simple construct a set of terminologies that are commonly applied when speaking of "systems" and we just might have veered away from discoveries of imminent importance. Ask yourself, "You said it was a system, but how did that statement help you solve your problem? How far off would we have to be in our perception of systemsness for us to make mistakes of consequence? One Hundred Billion are lost annually in software projects that failed – Why?"

Of some great mysteries we look to the frontiers of research in astrophysics and attempt to explain the fabric of space; the utility of process models used to achieve our engineering goals; the fundamentals of risk and economic forecasting; and even the future of artificial intelligent systems. Are systems involved in these quests; and if so how?

My research focuses on modeling the internal structures and actions of systems. I have discovered that systems are omnipresent, radically distinctive and without equal, and misunderstood.
Biographical Information
Gary Langford is a serial entrepreneur founding five companies, taking one public on Nasdaq; was executive vice president of a merchant bank; a NASA Ames research fellow with 2 space missions to Mars; a systems engineer working for multiple aerospace companies; and for 19 years, teaching systems engineering at Portland State University, Naval Postgraduate School, and Stanford University. He has an A.B. in Astronomy (UC Berkeley), M.S. in Physics (Cal State University, Hayward), and Ph.D. in Electronics and Engineering (University of South Australia).
Subjects
Whole and parts (Philosophy), System theory -- Philosophy, System analysis
Disciplines
Science and Technology Studies | Theory, Knowledge and Science
Persistent Identifier
https://archives.pdx.edu/ds/psu/32492
Rights
© Copyright the author(s)

IN COPYRIGHT:
http://rightsstatements.org/vocab/InC/1.0/
This Item is protected by copyright and/or related rights. You are free to use this Item in any way that is permitted by the copyright and related rights legislation that applies to your use. For other uses you need to obtain permission from the rights-holder(s).
DISCLAIMER:
The purpose of this statement is to help the public understand how this Item may be used. When there is a (non-standard) License or contract that governs re-use of the associated Item, this statement only summarizes the effects of some of its terms. It is not a License, and should not be used to license your Work. To license your own Work, use a License offered at https://creativecommons.org/
Recommended Citation
Langford, Gary, "What if our Beliefs about a System are not Wholly Accurate? What if?" (2019). Systems Science Friday Noon Seminar Series. 75.
https://archives.pdx.edu/ds/psu/32492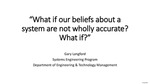 COinS