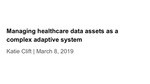 Abstract
A major project is underway to develop a shared platform for data and analytics in a highly federated healthcare delivery organization. In the status quo data environment, analysts have integrated information from various domains — medical records, claims, membership — to produce a multitude of reports and analysis. Duplicative, mis-aligned, and siloed datasets were created as an unintended consequence.
One objective of the project is to produce outcomes (reports, analysis) that are more standardized and efficient than the status quo without sacrificing adaptability. Standards and practices are being intentionally developed as a mechanism for this emerging system to achieve more cohesion. In this presentation, I apply systems theories to develop an approach that recognizes the complex adaptive tendencies of this evolving landscape for data and analytics.
Biographical Information
Katie Clifton is nearing the end of a scenic journey to a Masters degree in Systems Science. She has been working in industry — software and healthcare — for two decades. Katie spends her free time with her dear ones.
Subjects
Medical informatics -- Technological innovations, System analysis, System theory, Complex adaptive systems, Self-organizing systems
Disciplines
Health and Medical Administration | Systems Engineering
Persistent Identifier
https://archives.pdx.edu/ds/psu/32497
Recommended Citation
Clifton, Katie, "Managing Healthcare Data Assets as a Complex Adaptive System" (2019). Systems Science Friday Noon Seminar Series. 79.
https://archives.pdx.edu/ds/psu/32497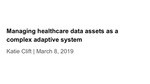 COinS