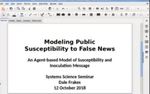 Abstract
This session will present on-going research in using Agent Based Modeling to study applying Inoculation Theory to mitigating the spread of false-news. Inoculation Theory (https://en.wikipedia.org/wiki/Inoculation_theory) comes from the psychology domain and aims to explain how attitudes and beliefs change, and how they can be maintained against attempts to change them. In this modeling effort we (a team headed by researchers from Decision Research: http://www.decisionresearch.org/) are attempting to combine existing models of how opinions can change through interactions between agents with ideas from inoculation theory. Our goal is to develop a model that can demonstrate the effectiveness of using inoculation theory to fight against "false news" and to help guide research on human subjects that may eventually result in useful policies.
In this talk I will focus primarily on the agent-based modeling effort, including our efforts to replicate previous simulation studies, the various problems we faced and how we chose to solve them, and finally looking at the challenges we face in completing the project.
Biographical Information
Dale Frakes is a Ph.D. student in the Systems Science program with a focus on computer modeling & simulation. He has a diverse professional history including 10 years in supply chain and analytics at Nike, 4 years in IT at University of Portland's School of Engineering, and 4 years in the US Army as a paratrooper and Arabic linguist. He has a BA in International Studies/Middle East from Portland State, and an MBA with a concentration in Global Business from the University of Portland. He currently teaches courses in computer modeling & simulation for the Systems Science department as well as working as a research consultant.
Subjects
Agent-based modeling, Media literacy -- Psychological aspects, Critical thinking, Fake news -- Social aspects, Systems theory
Disciplines
Information Literacy | Mass Communication | Social Influence and Political Communication
Persistent Identifier
https://archives.pdx.edu/ds/psu/33954
Recommended Citation
Frakes, Dale, "Modeling Public Susceptibility to Fake News" (2018). Systems Science Friday Noon Seminar Series. 85.
https://archives.pdx.edu/ds/psu/33954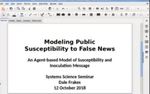 COinS