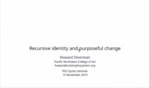 Abstract
Numerous theorists have used the concept of "identity" to characterize persistence and change in the experience and analysis of social and/or ecological systems. These include: Allena Leonard and Niklas Luhmann (cybernetics), Geoffrey Vickers (soft/critical systems), Béla Bánáthy (systemic design), Graeme Cumming (resilience), and Harrison White (networks). Concurrently, "identity" is also used to colloquially and academically describe that which persists in oneself. In this talk, I present models of identity that link individual, organizational, social, and ecological systems, characterizing the individual as recursively and intersectionally embedded and entangled in systemic relationships. This approach has significant implications for how one might consider and/or engage with purposeful change. This talk draws upon papers published in Ecology and Society (https://www.ecologyandsociety.org/vol23/iss3/art4/) and presented at the American Society of Cybernetics 2019 conference in Vancouver, BC.
Biographical Information
Howard Silverman teaches classes in systems and foresight in the Collaborative Design MFA / Design Systems MA program at Pacific Northwest College of Art. From 1999 to 2012 he was with Portland-based nonprofit Ecotrust. He writes at https://www.solvingforpattern.org/.
Subjects
Identity, Social change, Intersectionality (Sociology), Ecology (Social aspects), System analysis
Disciplines
Nature and Society Relations | Politics and Social Change | Theory and Philosophy
Persistent Identifier
https://archives.pdx.edu/ds/psu/30940
Rights
© Copyright the author(s)

IN COPYRIGHT:
http://rightsstatements.org/vocab/InC/1.0/
This Item is protected by copyright and/or related rights. You are free to use this Item in any way that is permitted by the copyright and related rights legislation that applies to your use. For other uses you need to obtain permission from the rights-holder(s).
DISCLAIMER:
The purpose of this statement is to help the public understand how this Item may be used. When there is a (non-standard) License or contract that governs re-use of the associated Item, this statement only summarizes the effects of some of its terms. It is not a License, and should not be used to license your Work. To license your own Work, use a License offered at https://creativecommons.org/
Recommended Citation
Silverman, Howard, "Recursive Identity and Purposeful Change" (2019). Systems Science Friday Noon Seminar Series. 9.
https://archives.pdx.edu/ds/psu/30940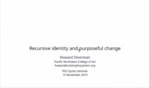 COinS