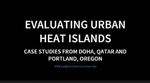 Abstract
With ever-increasing populations in urban areas, and major changes to our climate system, a public health imperative is to prepare for dangerous weather events in cities. Extreme weather events, such as heat waves, impact the most vulnerable human populations, and are known to kill more urban dwellers than any other natural disaster. If public health agencies are to prevent excess mortality and morbidity, then identifying those areas and communities most prone to heat stress can provide guidance for timely interventions. Yet we still lack a systematic approach for identifying specific locations where extreme weather events might have profound and fatal impacts on human populations. In two case studies exemplifying data-rich and data-poor regions we aim to created predictive urban heat island (UHI) models. We achieve this with land-use GIS data, Random Forest modeling, and vehicle-mounted GPS-tagged temperature observations. Our models suggest that morning, afternoon, and evening heat distributions have different variables which help to explain the variation in temperatures.
Biographical Information
Vivek Shandas has an interdisciplinary training that spans the social and biophysical sciences. His research interests focus on understanding the dynamics of socio-ecological systems specifically in cities. Through projects that examine multiple spatial and temporal scales, he aim to characterize, monitor, and model the interactions between humans and the environment. By using qualitative, quantitative, and mixed-methods, the outcomes of his research aims to engage communities in identifying feedbacks among human behavior, environmental change, and human health and well-being. Notable areas of research include, water use behavior among urban residents, urban vegetation and human health, urban ecosystem services, and participatory mapping.
Jackson Voelkel is a Geospatial Research Analyst at the Sustaining Urban Places Research (SUPR) Lab. One of his main focuses is creating land and urban canopy descriptors from lidar data and developing methodologies for integrating them with planning and sustainability research. He also focuses on the automation of complex workflows, streamlining of bulky processes to ease computational burdens across multiple users, and cartography among an assortment of other geospatial research topics.
Subjects
Environmental conditions -- Remote sensing, Urban heat island -- Oregon -- Portland, Urban climatology, Sustainable development, Urban heat island -- Qatar -- Doha
Disciplines
Atmospheric Sciences | Climate | Urban Studies
Persistent Identifier
https://archives.pdx.edu/ds/psu/33962
Rights
© Copyright the author(s)

IN COPYRIGHT:
http://rightsstatements.org/vocab/InC/1.0/
This Item is protected by copyright and/or related rights. You are free to use this Item in any way that is permitted by the copyright and related rights legislation that applies to your use. For other uses you need to obtain permission from the rights-holder(s).
DISCLAIMER:
The purpose of this statement is to help the public understand how this Item may be used. When there is a (non-standard) License or contract that governs re-use of the associated Item, this statement only summarizes the effects of some of its terms. It is not a License, and should not be used to license your Work. To license your own Work, use a License offered at https://creativecommons.org/
Recommended Citation
Shandas, Vivek and Voelkel, Jackson Lee, "Evaluating Urban Heat Islands: Case Studies from Doha, Qatar and Portland, Oregon" (2016). Systems Science Friday Noon Seminar Series. 91.
https://archives.pdx.edu/ds/psu/33962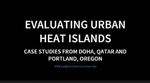 COinS