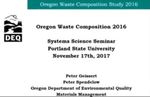 Abstract
This presentation will discuss the background, methodology and field results from the 2016 Oregon Waste Composition Study including the following:

• The tons of solid waste disposed in Oregon or generated in Oregon and disposed out-of-state, by source and by type of disposal facility.

• The composition of municipal solid waste disposed, based on a traditional field waste composition study that involved collecting and sorting samples from disposal sites in Oregon throughout calendar year 2016.

• Discussion of the contamination analysis methodology designed to adjust for contamination and absorption of water from wet waste or external water into dry wastes.

• Comparison of the results of this study to previous studies.

• Comparison of the composition of municipal wastes disposed to the composition of materials recovered in Oregon for recycling, composting, or energy recovery, based on the Oregon Material Recovery Survey.

• The position of Waste Composition in the larger strategy for quantifying progress toward sustainability as outlined in the Materials Management 2050 Vision.

This project was jointly funded by the Oregon Department of Environmental Quality (DEQ), Metro, Marion County, Lane County and the City of Portland. fieldwork was carried out by Sky Valley Associates using methodology developed jointly by DEQ, Sky Valley Associates, and previous contractors. Disposal site operators and solid waste collection companies also provided extensive information and assistance for the study. DEQ carried out the analysis of waste composition and quantification data and produced the final report.
Biographical Information
Peter Geissert MPH is a student in the Systems Science PhD program. His interests include public health, complex systems, analytics and the application of dynamic modeling and machine learning methods to epidemiology. For the last year he has worked as a Research Analyst on the Oregon Waste Composition Study.
Peter Spendelow PhD is a Natural Resource Specialist with the Oregon Department of Environmental Quality (DEQ). He has worked on solid waste and recycling issues at DEQ since 1985. He is the chief architect of the waste composition study methodology and has overseen intermittent waste composition studies for Oregon DEQ since 1992.
Subjects
Oregon Department of Environmental Quality, Refuse and refuse disposal -- Oregon -- Management, Recycling (Waste etc.), Waste disposal sites -- Oregon, Sustainable development
Disciplines
Other Environmental Sciences | Sustainability
Persistent Identifier
https://archives.pdx.edu/ds/psu/33963
Rights
© Copyright the author(s)

IN COPYRIGHT:
http://rightsstatements.org/vocab/InC/1.0/
This Item is protected by copyright and/or related rights. You are free to use this Item in any way that is permitted by the copyright and related rights legislation that applies to your use. For other uses you need to obtain permission from the rights-holder(s).
DISCLAIMER:
The purpose of this statement is to help the public understand how this Item may be used. When there is a (non-standard) License or contract that governs re-use of the associated Item, this statement only summarizes the effects of some of its terms. It is not a License, and should not be used to license your Work. To license your own Work, use a License offered at https://creativecommons.org/
Recommended Citation
Geissert, Peter and Spendelow, Peter, "The 2016 Oregon Waste Composition Study: Quantifying Disposal of Materials" (2017). Systems Science Friday Noon Seminar Series. 92.
https://archives.pdx.edu/ds/psu/33963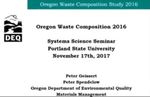 COinS