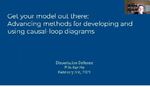 Abstract
As simple visual diagrams of key dynamics in complex systems, causal-loop diagrams could meet known needs in settings such as theory-based program evaluation and qualitative research. Methods for developing and using causal-loop diagrams, however, are underdeveloped. The dissertation being defended comprises three articles that advance these methods. The first paper describes a systematic review of evaluation studies utilizing causal-loop diagramming to illustrate program theory. The second paper pilots an improved method for systematically generating causal-loop diagrams from qualitative data. The third paper presents a protocol for an interview-based approach to mapping mental models. Together, this research contributes to recognizing the modeler as co-creator, reframes the relationship between intervention and context, and enables more diverse uses for causal-loop diagrams. Ultimately, this research serves to improve the rigor and transparency of methods for developing causal-loop diagrams, broadening their potential applications for modeling, research, and evaluation.
Biographical Information
Erin is currently a PhD candidate in systems science and holds degrees in sustainability science (MS), psychology (BA), and philosophy (BA). The main focus of her dissertation research is how systems mapping and modeling can support program development and evaluation by blending qualitative and systems methods. She is particularly interested in using systems methods to synthesize evidence across multiple knowledge domains to inform decision making. She has been involved in a variety of systems modeling research projects, including a model of concussion recovery (www.dynamicsofconcussion.com). She currently works part-time as a systems-based qualitative researcher for the Oregon Rural Practice-based Research Network at OHSU. As an independent consultant, I provide services and training in systems mapping and modeling, as well as academic publishing support. My prior professional experience is largely within the nonprofit sector.
Subjects
Systems science, System analysis, Cognitive maps (Psychology), Evaluation research (Social action programs), Qualitative research
Disciplines
Quantitative, Qualitative, Comparative, and Historical Methodologies | Theory, Knowledge and Science
Persistent Identifier
https://archives.pdx.edu/ds/psu/34921
Recommended Citation
Kenzie, Erin S., "Get Your Model Out There: Advancing Methods for Developing and Using Causal-Loop Diagrams" (2021). Systems Science Friday Noon Seminar Series. 97.
https://archives.pdx.edu/ds/psu/34921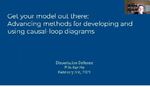 COinS