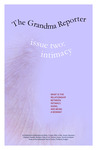 Files
Download Ng_The Grandma Reporter_16.jpg (5.9 MB)
Download Ng_The Grandma Reporter_17.jpg (481 KB)
Download Ng_The Grandma Reporter_18.JPG (4.0 MB)
Download Ng_The Grandma Reporter_15.jpg (1.2 MB)
Download Ng_The Grandma Reporter_14.jpg (1.1 MB)
Download Ng_The Grandma Reporter_12.jpg (514 KB)
Download Ng_The Grandma Reporter_11.jpg (601 KB)
Download Ng_The Grandma Reporter_10.JPG (4.1 MB)
Download Ng_The Grandma Reporter_13.jpg (204 KB)
Download Ng_The Grandma Reporter_9.jpg (438 KB)
Download Ng_The Grandma Reporter_8.JPG (769 KB)
Download Ng_The Grandma Reporter_7.JPG (1.7 MB)
Download Ng_The Grandma Reporter_6.JPG (651 KB)
Download Ng_The Grandma Reporter_4.JPG (613 KB)
Download Ng_The Grandma Reporter_3.JPG (633 KB)
Download Ng_The Grandma Reporter_2.JPG (546 KB)
Download Ng_The Grandma Reporter_1.jpg (4.6 MB)
Publication Date
6-28-2019
Description
A collaborative project by Betty Canham, Crystal Sasaki, Ellen Gee, Erika Dedini, Jacqui Jackson, Maureen Phillips, Mildred Winters, Pamela Sky Jeanne, Roshani Thakore, Salty Xi Jie Ng, Sharon Cooper, Susan Green, Tammy B, and Valerie Wrede
The Grandma Reporter is a collaborative publication project on senior women's culture across the Earth. We are a space for intimate exchange about: style, isolation, and adventure; aging bodies, wrinkles, bunions, caregiving, and death; considering the struggles of growing old in a young, technology-focused world; swimming as a magical way to keep fit in spite of on-land mobility challenges; food, genes, and other things passed through generations; lost loves, longings, and sex that evolves with age. Presenting perspectives that are tender, poignant, moving and humorous, we are energetically connecting our contributors, collaborators, and readers in a senior women's culture movement.
ISSUE 2: INTIMACY Intimacy is a human need, entangled with notions of desire and loneliness, as well as considerations of mental, social, and physical health. And yet it is a taboo subject, especially from an aging perspective. In this issue a team of women aged 22 to 84 explored intimacy over a few months through conversations and multidisciplinary projects. This publication is a punctuation mark in our process, and it presents perspectives that are playful, humorous, celebratory and poignant.
In these pages you will find: short essays by seniors expressing pride and hopeful romanticism; playful instructions for intimacy in everyday life; movement practices for aging bodies; an optimistic medical perspective on women's sexual health and aging; intimate self-identity exploration through fashion and fantasy; the inaugural Senior Women's Erotica Club; a slow sex playlist; and a tender yet stirring manifesto on intimacy for older women.
The launch event was held at the Hollywood Senior Center on June 28, 2019. There were readings, performances, and a women only discussion circle on intimacy. (All women welcome, including cis, gay, lesbian, bi or trans)
Supported by the Regional Arts & Culture Council Named Best Of Senior Lifestyle Magazines in Willamette Weekly
NOTE: images 7, 12 and 13 in the drive feature the sub-project Intimacy Manifesto facilitated by Roshani Thakore
Link to Artist Website
Key Words
aging, seniors, elders, intimacy, sex, ageism, erotica, intergenerational
Publication Location
Hollywood Senior Center, Portland, Oregon
Original Format
newsprint publication
Rights
The Art and Social Practice Archive materials are made available to the public under Creative Commons for personal, educational and non-commercial use within the parameters of "fair use" as defined under U.S. copyright law. No material will be reproduced, broadcast or distributed for commercial purposes.
Recommended Citation
Ng, Salty Xi Jie, "The Grandma Reporter Issue Two: Intimacy" (2019). The Grandma Reporter. 1.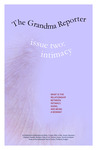 COinS