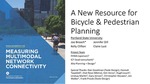 Description
In 2016 the United States Department of Transportation (USDOT) Federal Highway Administration (FHWA) published a Guidebook for Developing Pedestrian and Bicycle Performance Measures that presents methods for measuring walking and bicycling performance and activities and embedding them into the transportation planning and decisionmaking process (U.S. Department of Transportation 2016). Building on the 2016 guidebook, this resource focuses on pedestrian and bicycle network connectivity and provides information on incorporating connectivity measures into state, metropolitan, and local transportation planning processes.
Connectivity measures can help transportation practitioners identify high priority network gaps, implement cost-effective solutions that address multiple needs, optimize potential co-benefits, and measure the long-term impacts of strategic pedestrian and bicycle investments on goals such as improving safety, system efficiency, network performance, and access to key destinations. Toward that end, this resource should be used in conjunction with self-evaluation and transition plans to evaluate needs for pedestrians with disabilities.
What Is Multimodal Network Connectivity? Connectivity is one of several concepts commonly used in transportation performance measurement to describe the ease with which people can travel across the transportation system. At its simplest level, network connectivity addresses the question, "Can I get where I want to go easily and safely?" Multimodal network connectivity adds the dimension of travel choices to the picture: "Can I get where I want to go easily and safely in whatever way I choose-for example, walking, bicycling, using transit, or driving?" A connected multimodal network allows people to travel by whatever mode they choose, including people who do not drive or do not have access to a motor vehicle.
Key Components of Pedestrian and Bicycle Network Connectivity This guidebook outlines five core components of multimodal network connectivity, as listed below, with a focus on pedestrians and bicyclists. While these components are all related, the distinctions between them provide a framework for selecting connectivity measures that address specific questions. The guidebook describes analysis methods and supporting measures associated with each of these components:
Network completeness - How much of the transportation network is available to bicyclists and pedestrians?
Network density - How dense are the available links and nodes of the bicycle and pedestrian network?
Route directness - How far out of their way do users have to travel to find a facility they can or want to use?
Access to destinations - What destinations can be reached using the transportation network?
Network quality - How does the network support users of varying levels of experience, ages, abilities, and comfort with bicycling or walking?
Biographical Information
Joseph Broach is a Research Associate with the Transportation Research and Education Center (TREC) and an Instructor in the School of Urban Studies and Planning at Portland State University. His work primarily focuses on transportation data, behavior, and modeling, and he helped design the Portland region's next-generation bicycle model in conjunction with Metro.
Subjects
Cycling -- Route choice, Cycling -- Oregon -- Portland -- Safety measures, Choice of transportation -- Forecasting, Cycling -- Route choice -- Mathematical models
Disciplines
Environmental Engineering | Transportation | Transportation Engineering | Urban Studies | Urban Studies and Planning
Persistent Identifier
http://archives.pdx.edu/ds/psu/25035
Recommended Citation
Broach, Joseph, "FHWA Guidebook for Measuring Multimodal Network Connectivity" (2018). TREC Friday Seminar Series. 147.
http://archives.pdx.edu/ds/psu/25035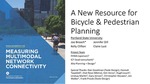 COinS