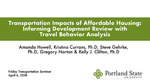 Files
Download
Download Presentation (20.5 MB)
Description
Planning for affordable housing is challenged by development policies that often do not differentiate between the travel patterns of residents of market-rate housing and those living in affordable units. The development review process generally requires an evaluation of the anticipated additional transportation demand that new development places on the system and an assessment of fees or improvements to mitigate these impacts.
However, industry standard guidelines for assessment of travel demand outlined within the Institute of Transportation Engineers (ITE) Trip Generation Handbook have been focused solely on vehicle trip rates for these traffic impact analyses. Given the public goals of providing affordable housing in areas with good accessibility and transportation options, there is a need to reduce unnecessary costs imposed by the potential over-estimation of automobile travel and its associated impacts. During the course of this seminar, we will discuss the importance of examining the influences of urban characteristics, residential housing type, and income on metrics commonly used to assess the transportation impacts of new development.
Biographical Information
Amanda Howell recently joined the University of Oregon as the Program Coordinator for Urbanism Next after completing a master's degree in urban and regional planning at Portland State University in 2017. She served as the project manager for an affordable housing transportation study sponsored by the California Department of Transportation during her studies. Growing up in Los Angeles heavily influenced her interest in the built environment, as well as the intersection between housing and transportation. Before moving to Portland for graduate school, Amanda provided programmatic support to the Prison University Project, a Bay Area nonprofit that operates an on-site, degree-granting program for people incarcerated at San Quentin State Prison. She holds a BA from UC Berkeley.
Subjects
Trip generation, Institute of Transportation Engineers, Origin and destination traffic surveys -- Case studies, Household surveys, Urban transportation
Disciplines
Transportation | Transportation Engineering | Urban Studies
Persistent Identifier
http://archives.pdx.edu/ds/psu/25037
Recommended Citation
Howell, Amanda, "Transportation Impacts of Affordable Housing: Informing Development Review with Travel Behavior Analysis" (2018). TREC Friday Seminar Series. 148.
http://archives.pdx.edu/ds/psu/25037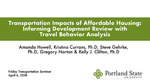 COinS