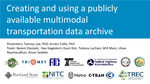 Description
PORTAL provides a centralized, electronic database that facilitates the collection, archiving, and sharing of data and information for public agencies within the region. The data stored in PORTAL includes 20-second granularity loop detector data from freeways in the Portland-Vancouver metropolitan region, arterial signal data, travel time data, weather data, incident data, VAS/VMS message data, truck volumes, transit data, and arterial signal data. Many of these data feeds are received by PORTAL in real time or on a daily basis and for most, the retrieval and archiving process is fully automated.
BikePed Portal: Jurisdictions around the country are collecting non-motorized traffic count data, but the lack of a centralized database inhibits data sharing and greatly reduces the utility of this important and growing dataset. In response, we created a national online non-motorized traffic count archive. This archive allows users to upload, view and download data. Access to a centralized non-motorized traffic data archive opens the door to innovation in research, design, and planning.
Biographical Information
Tammy Lee, Transportation Data Program Administrator, TREC
Tammy is working on a variety of projects for TREC, including documentation, data synthesis, analysis, and visualization supporting ongoing work with PORTAL and Bike-Ped Portal. Prior to joining TREC, she worked as a data scientist for a political digital media consulting firm.
Kristin Tufte, Research Assistant Professor, Portland State University
Kristin Tufte has 25+ years experience in data management research and implementation. She was a team member on the design and implementation of three novel research data management systems, including one sold to NCR Corporation. For the past 15 years, she has collaborated with Portland-area public sector agencies on PORTAL, the Portland, OR/Vancouver, WA regional transportation data archive and more recently on Smart Cities efforts. In addition, Kristin teaches courses in database systems and implementation, cloud data management and data science.
Disciplines
Transportation | Urban Studies | Urban Studies and Planning
Persistent Identifier
https://archives.pdx.edu/ds/psu/33269
Recommended Citation
Lee, Tammy and Tufte, Kristin A., "Creating And Using A Publicly Available Multimodal Transportation Data Archive" (2020). TREC Friday Seminar Series. 191.
https://archives.pdx.edu/ds/psu/33269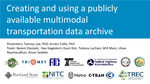 COinS