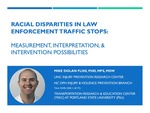 Files
Download
Download Presentation (15.4 MB)
Description
Law enforcement traffic stops are one of the most common entryways to the US justice system, with significant downstream impacts for both individuals and communities. Group-specific rates are typically based on jurisdiction resident populations; these rates, like many justice-system indicators, demonstrate race-ethnicity disparities. Residential-based rates implicitly assume race-ethnicity groups have equal vehicle access, equal driving volume, and that all driving occurs in resident's jurisdictions. In contrast, surveys suggest Black non-Hispanic and Hispanic households have less access and drive less than white non-Hispanic households. Models incorporating US Census data and race-ethnicity driving factors from the 2017 National Household Travel Survey showed increased disparities for Black non-Hispanic drivers; all models suggested both groups experience disparate traffic stop rates compared to white non-Hispanic drivers.
A police department in Fayetteville, NC attempted to reduce these disparities by focusing on safety-related traffic stops; intervention results will be shared. The Public Health Critical Race Praxis (PHRCP) guided framing, results interpretation, and self-evaluation of study aims. Traffic stops have associated public health outcomes and create disparities of relevance for public health researchers. Interventions guided by critical public health frameworks can save lives and reduce disparities.
Biographical Information
Mike Dolan Fliss, Research Scientist, University of North Carolina Injury Prevention Research Center
Mike is a public health data scientist using R to bring public health and social justice together. Trained as an epidemiologist (PhD), computer scientist (MPS), and social worker (MSW), Mike is dually affiliated with the NC Division of Public Health and the University of North Carolina, where he teaches a course on R for Public Health Epidemiology (with content publicly available online) and stand-alone R workshops. Mike's current projects include identifying racial injustices in policing and in the built and natural environment; tracking injury outcomes like opioid overdoses, child maltreatment, and car crashes; and building public health dashboards for situational awareness, policy change, and population health improvement.
Subjects
Racial profiling in law enforcement -- United States, Discrimination in law enforcement -- United States, Discrimination in criminal justice administration -- United States, Social justice -- United States, United States -- Race relations
Disciplines
Transportation | Urban Studies | Urban Studies and Planning
Persistent Identifier
https://archives.pdx.edu/ds/psu/34852
Recommended Citation
Fliss, Mike Dolan, "Racial Disparities in Traffic Enforcement" (2020). PSU Transportation Seminars. 199.
https://archives.pdx.edu/ds/psu/34852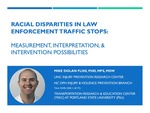 COinS