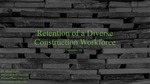 Files
Download
Download Presentation (10.5 MB)
Description
Having a strong pipeline of workers will be critical for ongoing efforts to improve transportation infrastructure, such as roads, highways, and bridges. This talk first provides an overview of the recruitment and retention of a diverse construction workforce in Oregon. Next are findings from research studies over the last ten years demonstrating the challenges experienced by workers on construction job sites that lead to low retention levels. The talk concludes with a discussion of several initiatives within the construction trades that have been implemented to address job site culture.
Biographical Information
As a public sociologist, Maura Kelly researches inequalities in the construction trades and advocates to increase opportunities for women and people of color in the trades. Her evaluation research with Dr. Lindsey Wilkinson has assessed a variety of programs intended to increase the recruitment and retention of diverse workers in the trades, including the Highway Construction Workforce Development Program, Green Dot for the Trades, Oregon Tradeswomen and Constructing Hope pre-apprenticeship programs, Mentorship Matters, and City of Seattle Acceptable Work Sites.
Subjects
Construction workers -- Diversity of, Construction workers -- Employment
Disciplines
Sociology | Transportation | Urban Studies and Planning
Persistent Identifier
https://archives.pdx.edu/ds/psu/36576
Recommended Citation
Kelly, Maura, "Retention of a Diverse Construction Workforce" (2021). TREC Friday Seminar Series. 210.
https://archives.pdx.edu/ds/psu/36576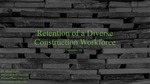 COinS