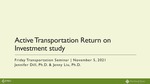 Files
Download
Download Presentation (35.5 MB)
Description
The Active Transportation Return on Investment (ATROI) study aimed to provide a quantitative and qualitative assessment of the economic benefits of active transportation infrastructure in the Portland, OR region. The study was funded by Portland Metro and conducted by researchers at PSU and Metro.
This seminar will focus on one part of the study--a quantitative assessment of the economic impacts of 12 "catalyst" projects. These projects retrofitted busy commercial streets with pedestrian friendly treatments aimed at catalyzing economic development. The projects were in Beaverton, Cornelius, Forest Grove, Gresham, Milwaukie, Oregon City, Portland, and Tigard. The analysis estimated effects on employment, wages, and sales in the retail and food sectors.
Overall, we found positive effects for the retail and/or food sectors in nine of the 12 study areas. There were positive effects for projects located in different parts of the region, not just in more urban parts of the city of Portland. In addition to presenting the findings, this seminar will review the multiple methods and data sources used in the analysis.
Biographical Information
Dr. Jennifer Dill is a professor in the Nohad A. Toulan School of Urban Studies and Planning at Portland State University (PSU) and Director of the Transportation Research and Education Center (TREC) at PSU. TREC houses the National Institute for Transportation and Communities (NITC), which she also directs. NITC is a national university transportation center funded by the US Department of Transportation focusing on improving mobility for people and goods to build stronger communities. Dr. Dill also serves on the Board of Trustees for the Transit Center, a New York-based foundation that works to improve public transit in cities across the U.S.
Jenny Liu is an associate professor of urban studies and planning at Portland State University. She is an environmental and resource economist with a focus in transportation economics. Her research interests include the economics of alternative energy sources, links between transportation choices and environmental issues, the effects of physical infrastructure networks and social networks on the adoption of transportation technologies, and technology adoption and its effects on climate change, particularly within the urban and development contexts.
Subjects
Roads -- Economic aspects -- Oregon
Disciplines
Transportation | Urban Studies and Planning
Persistent Identifier
https://archives.pdx.edu/ds/psu/36636
Recommended Citation
Dill, Jennifer and Liu, Jenny H., "Economic Impacts of Street Improvements: Findings from Portland Area" (2021). TREC Friday Seminar Series. 213.
https://archives.pdx.edu/ds/psu/36636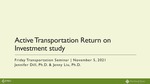 Included in
COinS