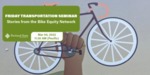 Title
Stories from the Bike Equity Network
Description
In late 2013, cultural anthropologist Lugo launched an email list called the Bike Equity Network (BEN). The purpose of the list was to create a space for connection among bike advocates who brought racial and social justice into their mobility work. The email list was a community for the advocates who went on to create the "1.0 Principles of Mobility Justice" as The Untokening, and it continues to expand today. Lugo will share stories from the BEN that define bike equity, mobility justice, and, ultimately, how to open the sustainable transportation and mobility field to more voices and experiences.
Biographical Information
Cultural anthropologist Adonia E. Lugo, PhD is the chair of the Urban Sustainability Department at Antioch University Los Angeles. She was born and raised in traditional and unceded Acjachemen territory and now lives and works in traditional and unceded Tongva territory in Los Angeles. Lugo began investigating sustainable mobility, race, and space during her graduate studies at UC Irvine, when she co-created CicLAvia and the organization today known as People for Mobility Justice in Los Angeles. After receiving her doctorate in 2013, she worked at the League of American Bicyclists in Washington, D.C. as a national leader in developing "bike equity." In addition to her role at Antioch LA, Professor Lugo is an urban anthropologist at Pueblo Planning, a core organizer of The Untokening, and the co-founder of the Mobility Justice Research Network.
Her book, Bicycle/Race: Transportation, Culture, & Resistance, was published in 2018. Visit Dr. Lugo's website.
Subjects
Bicycle commuting -- Social aspects -- United States, Urban transportation, League of American Bicyclists
Disciplines
Transportation
Persistent Identifier
https://archives.pdx.edu/ds/psu/37129
Recommended Citation
Lugo, Adonia, "Stories from the Bike Equity Network" (2022). TREC Friday Seminar Series. 221.
https://archives.pdx.edu/ds/psu/37129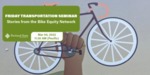 COinS