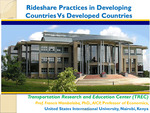 Description
This project investigated strategies towards development, marketing and implementation of employer programs for reducing single occupancy vehicles to mitigate traffic congestion. It was guided by the following research questions: which socio-economic factors influence carpooling; how do environmental factors influence carpooling; and what are effective traffic management strategies for enhancing carpooling. The presentation will also strive to introduce the US context for purposes of perspective.
Biographical Information
Francis Wambalaba is a professor of economics at United States International University (USIU) in Nairobi, Kenya. He has over 30 years of career experience in the United States and Kenya, inclusive of: Senior Transportation Planner at Tri-Met; Senior Research Associate at the Center for Urban Transportation Research (CUTR) at the University of South Florida; and Associate Deputy Vice Chancellor for Research at United States International University, in Kenya. He managed the CUTR professional development program and coordinated the Florida State Transportation Demand Management (TDM) Certificate Program; managed the national TDM clearinghouse serving transportation professionals across the United States, Canada, Europe and elsewhere; managed several grant-funded transportation research projects; and was responsible for developing Transportation Business Districts and Transportation Management Associations in Portland Oregon and Tampa Bay, Florida. Dr. Wambalaba has a strong interdisciplinary background in rural and urban economic development including a double major BSc in Economics and BA in Business Administration (1983), an MSc in Economics (1985); a Certificate in International Business Studies (1985); Master's in Urban Studies (1989), and a PhD in Urban Studies (1993). He is a certified planner with the American Institute of Certified Planners (AICP - 1999); and certificates in Transit Operations Planning from MIT (1994), and Public-Private Partnerships from Institute for PPP in Washington DC (2005).
Subjects
Ridesharing, Urban transportation, Traffic congestion -- Management
Disciplines
Transportation | Urban Studies | Urban Studies and Planning
Persistent Identifier
https://archives.pdx.edu/ds/psu/38553
Recommended Citation
Wambalaba, Francis, "Rideshare Practices in Developing Countries vs Developed Countries" (2022). TREC Friday Seminar Series. 227.
https://archives.pdx.edu/ds/psu/38553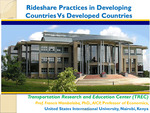 COinS